I got to spend last weekend with some amazing friends who like to get together and craft a few times a year.
It's an unstructured weekend - you can just bring whatever you want to work on, and everyone shares their supplies and stamps. Get up whenever you want, go to bed never, eat, drink and be merry.
I had just wrapped up Falliday Fest and I really, really needed a break, so I brought three Games magazines, some watercolor and a sketch book and I really just chilled and worked on puzzles and hung out with people. It was just what the doctor ordered after a month of spreadsheets and technical work in the Splitcoast gallery and on the site. A true suspension of reality for five whole days. Those times are like a reset button, and now I feel like I will survive everything that comes with the ten minutes Dina and I not so affectionately call OCTOBERNOVEMBERDECEMBER.
I really love all the friends who were there and was very sad to leave them, so I thought one of the cards I made for Falliday Fest would be a perfect card for today.
It started with the leftover Duralar/Alcohol ink play time pieces from the video I did
here
.
I cut one down to card front width, and then die cut it with the
Friend die from MFT
. They were kind enough to give me this die when I was at CHA and I've used it for no less than 50 cards since then. But this one is kind of my favorite. I cut five more from Whisper White and stacked them up and then glued the Duralar back on top for a subtle eclipse. These stacked die cuts look so amazing in real life.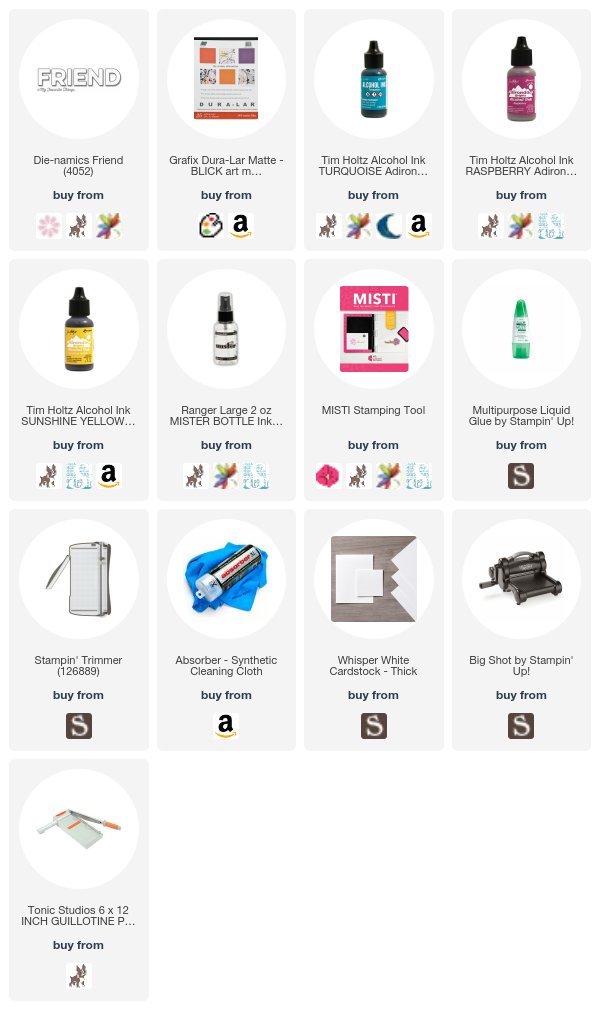 This one is the one in the video where I used the spritzer with rubbing alcohol to get more granulation in the pattern. It looks like a mineral deposit. So much fun.
Here's the video again, in case you missed it.
I hope you get a chance to just chill with friends before the holidays are upon us! I highly recommend it.
Loveyameanitbye.