You know what time it is???
MY MONTHLY HERO
TIME! My favorite Monday of EVERY month. So this weekend I put on the audiobooks and did some super fun holiday crafting with
this month's kit
. Now remember - this is a
while supplies last kit
, but
the add-ons
live on, so you will see both today. Here's my first card with the kit - the little scenic images in the kit are so incredibly sweet, I was actually a little paralyzed at first about which ones to focus on. But I love making all-year cards with holiday sets, so I thought the little wistful ice images were calling my name for a friendship card. I used two of
the Fancy Dies in the kit
- mountains and trees - to die cut the background from watercolor paper. The rest is just stamping and watercoloring. I used
Schmincke masking fluid
and drew a line across the watercolor paper for the shoreline - and another to indicate a snowbank, and then I did all my water and trees. Then I removed the masking fluid and stamped the little fisherwoman and her friend the penguin, watercolored those and the shadows on the snow. The sky is watercolored with fingerpainted clouds with white acrylic paint. All watercolors listed below. The sentiment is from
Egg-Cellent
, which you can see below.

Here's a picture of what you get in the kit - LOOK AT ALL THOSE STAMPS!
this kit
is a $70 value for just $34.99, so don't let it sell out on you!
Now - on to
the add-ons
- these are available even after
the kit
sells out. AND - you can buy them all for
one click for a 9% discount here
. The first one just cracks me up - they are elfmoji! Hilarious little elf emojis saying naughty things. I could not resist. I wish I had these on my phone! Get on that Tim Cook! The set is actually called
Irreverent Elf Messages
- I love all their irreverent line of stamps. I stamped these in Memento on Crafter's Companion Cardstock and then colored them with Copic Markers (listed below.) I then cut them out with the second smallest
Circle Infinity dies
. I lined up all the sentiments at once on my MISTI and so I only had to stamp once to get the background done. Then I just glued their little heads all over. Hilarious.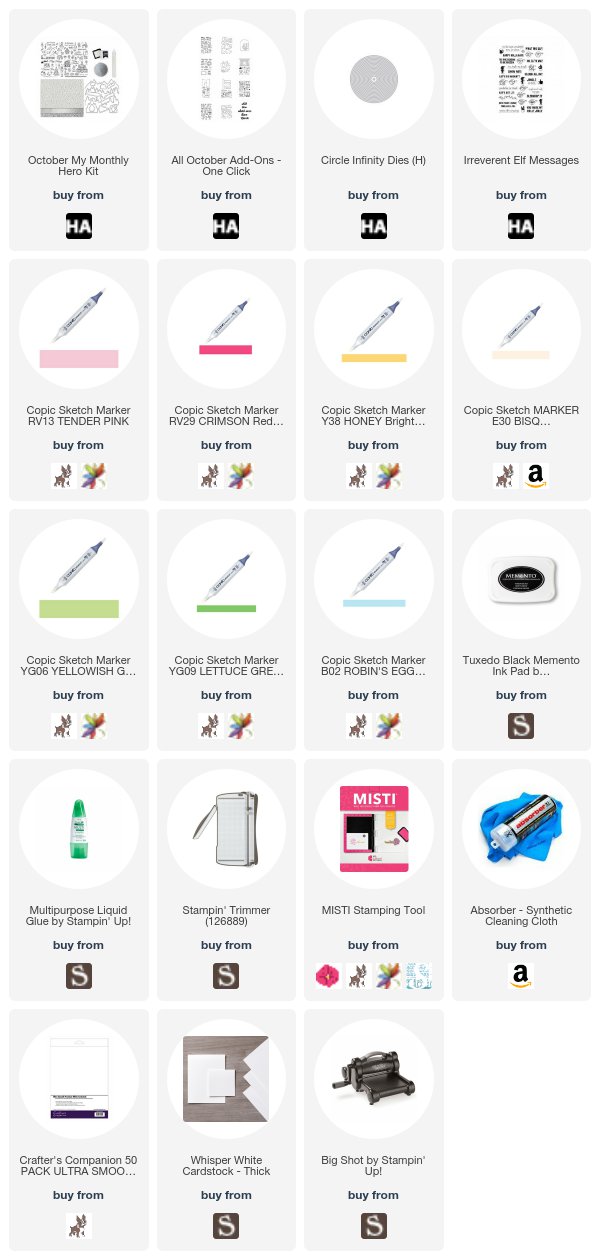 So speaking of elves, they also came out with two other elf sets - one is naughty elves, and one is nice elves. Betcha can't guess what I reached for first!!! Yep -
Naughty Elves
.

She actually does not look remorseful at all, which I guess is what makes her naughty! This is a good card to see the beautiful
textured papers that come in the kit
. The silver geometric one I cut with the
circle infinity dies
, and I love the one with the embossed dots - it's beautiful on both sides - the debossed and the embossed.
The companion set is the
Nice Elves set
- equally adorable and better behaved. Again I used
the paper from the kit
and the
circle infinity dies
.

And one more with
that sassy paper
, because I couldn't stop. The adorable
North Pole Sign Stamp & Cut bundle
was too cute to resist. Very quick and easy card too. I stamped the pole in
Strawberry ink
and then coated it with
the lacquer that came in the kit
- it's really nice and thick and dries fast. Wish you could see the shine!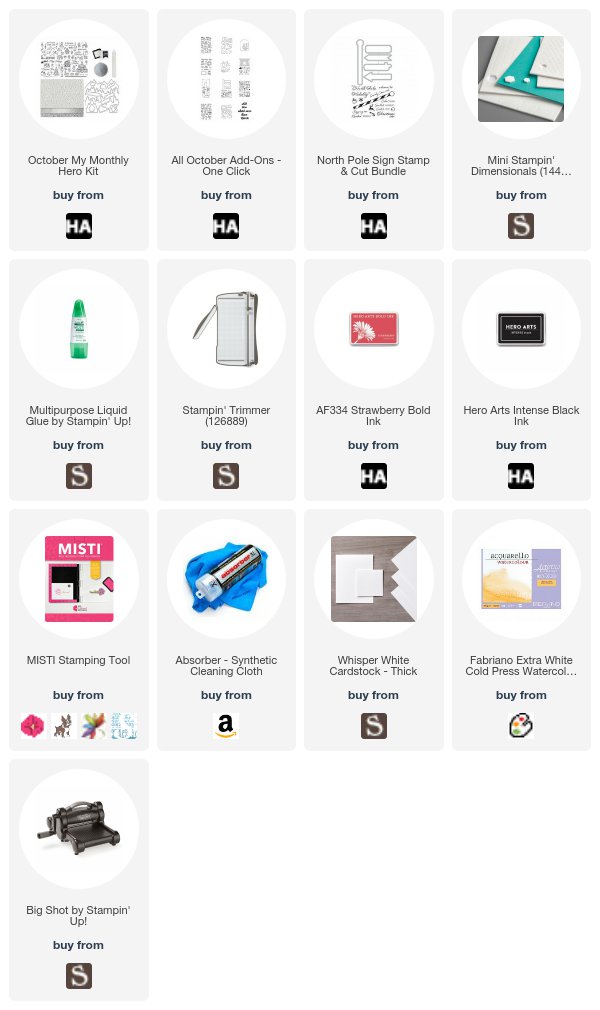 I like how ultra-modern it looks with that
shiny silver paper
- also a little frosty! I attached the signs with
mini dimensionals
.
Now we move into the "aww" section of the add-ons.
First up - PETS. I squee'd a little when I saw these and knew they had to be mine. Matching cat and dog stockings - officially called
Fluffy Stockings Stamp & Cut bundle
! Yes, I used the
kit paper
again - and if you look closely - you'll see - what - is that a mini brad??? Heck yeah it is. Just wait for the comeback!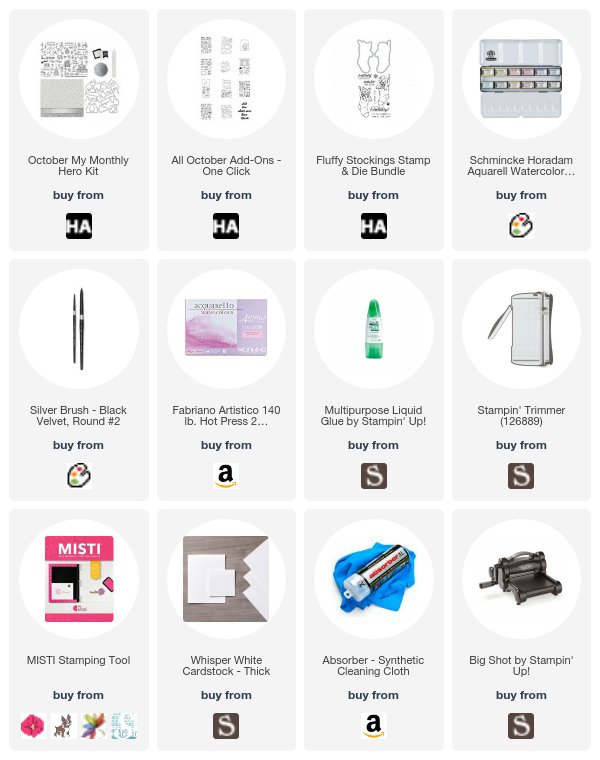 For these two little guys, I switched to hot press paper and my
Schmincke watercolor
. Oh and yeah I used
the paper from the kit
again, but it's the last time, I promise! :D They are
a Stamp & Cut bundle
, so I cut them out and glued them onto the watercolor washes and then added the brads.
Then - I'd cry if they didn't have paper layering dies, and I can't end this blog post with tears, so... first - a yellow ribbon for a soldier. I took the
Santa's Door accessories
&
frame cuts bundle
, and stamped the bow in
Butter Bar
, and then colored it with Copics (listed below). The next part was really super duper fun. I ran the
Paper Layering Wooden Door
through my Big Shot on
Cold Press watercolor paper
. Then I masked off the wall behind the door with
Post-It tape
. I painted the door with
Schmincke watercolor
- Naples Yellow and Yellow Ochre. Then I painted more well defined lines where the notches for the boards are on the die cut with Burnt Umber. Then with both Sepia and Burnt Umber and
this crazy awesome brush I got in Santa Fe
that has some bristles longer than others - it basically looks like it got a bad haircut - I lightly painted in the woodgrain with long, random strokes.
For the background, I painted on a LOT of Burnt Sienna and English Venetian, and then while it was still very wet, I wrapped an empty watercolor half pan in my
damp absorber
and pressed that into the wet paint to lift color in that subtle brick pattern. Fun, right?
Then after it was dry, I used
a stylus
to emboss the back to give texture to the boards in the door and glued the frame onto the card base. Since it's a yellow ribbon,
the Welcome Home sentiment in the bundle was perfect
! Another all-year card from a holiday set - I can imagine lots of things with this door.

I love that card!
So finally - this STUNNING
Winter Hearth Stamp & Cut bundle
. I cut it from watercolor paper, and then painted the whole thing with just two Daniel Smith colors (listed below). Then, while it was still wet, I took my damp absorber and blotted the stone trim and the mantel and footing to lift color and it gives it the look of stone - so fun. And it's impossible to see the dimension here, but I embossed the back of each brick and it's beautifully textured. I keep patting it. :)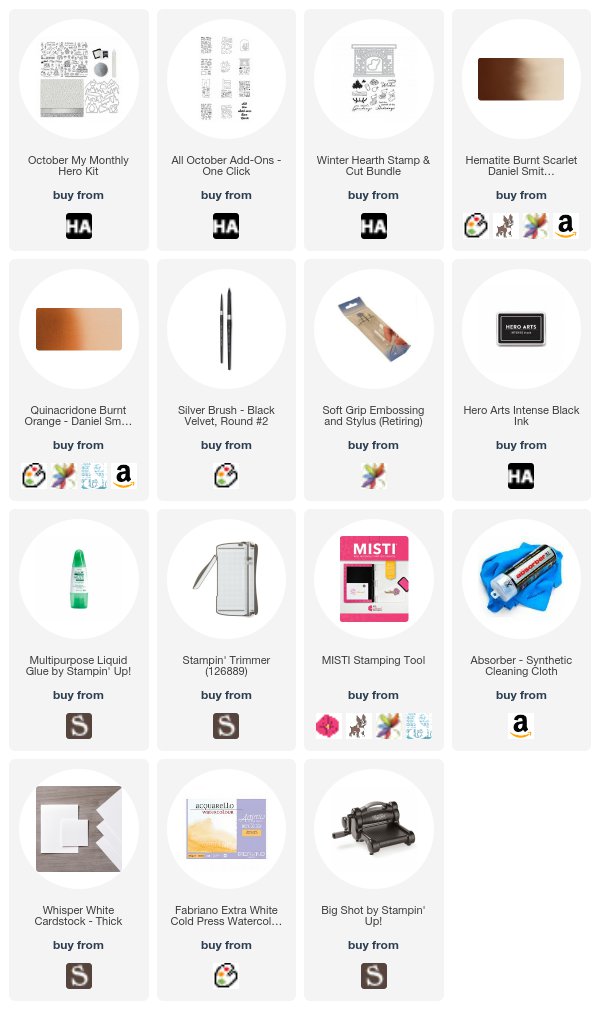 So I'm hopping with some friends and the Hero Creative team to celebrate these amazing goodies today, and of course Hero is giving away a kit to one lucky winner (or a refund if you're subscribed or bought it), so be sure and stop by every blog to leave a comment for your chance to win! The deadline to enter is October 8th at 11:59 PM Pacific time and the winner will be announced the following week. So without further ado - please head over to
May Park's blog
next - and you can see the whole list here!
Loveyameanitevenifyourenaughtybye.