Okay - I told you I would be back today with a fun way that you can help victims of this ridiculous hurricane season and so here I am!
I was
Gel Press printing
in my sister's garage the other day, and at the end of the printing session, when I had all my prints laid out to dry - I realized what had influenced my color choices.
Hurricane radar.
I've stared so long and so hard at these images over the past month that they are burned into my brain - watching them churn towards friends and strangers. They are beautiful in their own terrible way, of course. Everything you see influences your art.
So I took one of those prints and die cut it with the
Concord & 9th Hope bundle
for today's card.
Now the deal was with this bundle is that for the ENTIRE month of September, they dedicated 100% of the profits from the sales of this bundle to Hurricane Harvey relief.
I thought that was SUCH an incredible thing to do that I bought ten of them. I knew it would all be donated to people who really needed it and I thought that since the British Virgin Islands and Puerto Rico and Florida experienced so much devastation with the subsequent storms, that as soon as Concord & 9th ended their campaign, I'd start a tiny one of my own with this bundle.
So see below for how you can both WIN one of ten of these from me, but also how a donation will be made in your name to help both BVI and Puerto Rico! But first, my card!
I took one of my "hurricane prints" and I used the
Hope die
to cut out the little panel. This die is beautiful for cutting up big prints or watercolor washes - which are two of my favorite things to make.
Then I glued it down on a black card base - because no matter how dark it seems, there is always hope. That's what the human spirit is made of, after all. If it weren't for hope - none of us would have survived our awkward teen years or the whole white/gold black/blue dress controversy!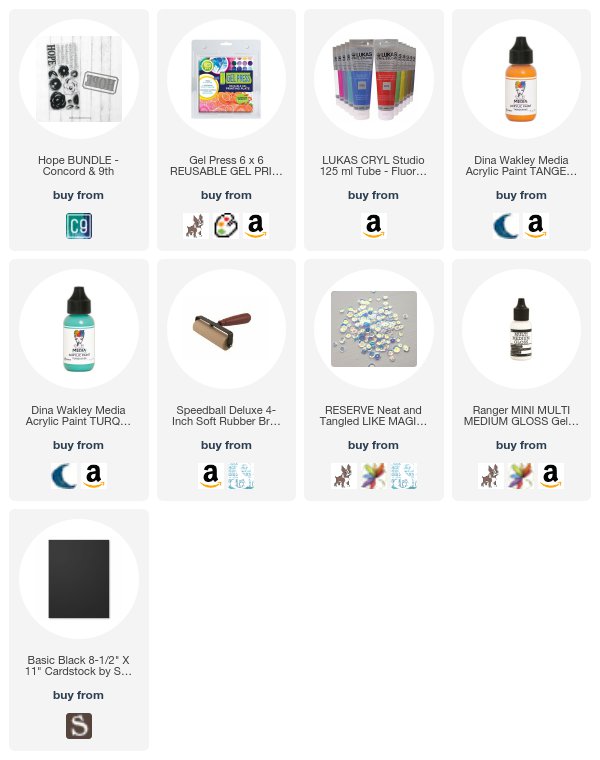 I wanted the color scheme hot like the radar, and the paints I used did the trick! (Listed below the card).
So - how can YOU win a bundle and have a donation made in your name? It's simple.
Fill out
this form
with your contact info (to ship your bundle to you - international participants welcome), and tell me something you've done to help people affected by the hurricane - everything from a prayer, to a card, to a donation or sharing important info on social media, or encouraging someone in the path - all of it helps. One of the things I realized after Harvey is that people were so generous so quickly - not knowing what lay ahead for the islands and Florida and Puerto Rico - that many people were unable to give beyond what they did for my fellow Texans.
So my donation isn't huge - it will be $20 per bundle winner, but it's something I can do, and every single dollar helps. I will make half the donations to
Richard Branson's BVI fund
because 100% of donations go to assistance, and half to the
One America Appeal
which also directs 100% of funds, and I will donate them specifically to the Puerto Rican recovery efforts.
Please only fill out the form one time :) - and you can enter this drawing until midnight on October 10th, Central Time. Winners will be announced on Friday the 13th, since 13 is my lucky number.
So thank you for being here today, and for being awesome, and for helping where you can - and I hope that you win one, and that we can then help our friends in the best way that we all are capable of.
PS - October starts some other fun things as well - our
Designer Series Paper Sale starts today
! Buy three get one free all month long here. PLUS - we have a
World Cardmaking Day Sale
- buy Fast Fuse and get THREE refills for free, as well as sale prices on other items. Remember to
use host code M2U9DE6V in my store
to be entered into my monthly Arkon giveaway!
Loveyameanitbye.