One of the Falliday Fest Challenges was to use leftover pieces from your desk - UFOs, as my friend Leslie used to call them - "unfinished objects" - to make your card.
I had a sweet little memory on my desk from the last night of post-retreat shenanigans in Austin last month. Most people stay an extra day or two in Austin and we do touristy things and then people start leaving on Tuesday, which is very sad.
We'v formed a tradition though of having coloring nights in the lobby of the hotel where everyone stays - they are very fun and relaxing.
So I had watercolored
this little creature
that last night and just left him on my desk to remind me of my friends and how much fun we had, and I thought he'd be perfect for Barbara's challenge.
Leftover adorableness.
I stamped him on watercolor paper and then watercolored him with
Daniel Smith watercolors
that night.
To make him into a card, I accented him with my
new Irojiten pencils from Tombow
. These are really nice pencils, and I especially like the fluorescent range - they make beautiful highlights on top of watercolor.
To get him onto the card, I stamped the image again to get all his little fuzzy bits down, and then I just fussy cut him with out the fuzzy bits, and glued him on top of the image on the card base to be reunited with his fuzzy bits again.
The sentiment is also from Paper Artsy
- I bought the set for another of the sentiments in it, but this one was perfect for my startled little critter.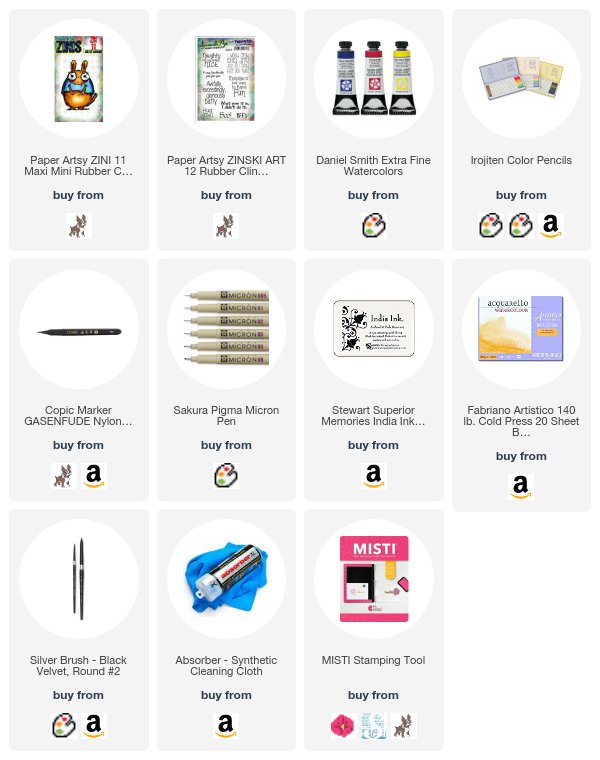 Clearly he's innocent, right? I mean who does something bad in a HALF SHIRT for goodness' sake?
I love their quirky images. The world needs more quirky. I'm trying to do my part. Hope you're having a good weekend - I'm crafting with friends this weekend, so check out my Instagram account for those photos.
Loveyameanitbye.