I know I've been hitting Christmas hard lately, so I am rewinding to fall today with a card I actually finished quite a while ago.
The background is left over from a very fun video I did that you'll hear about soon. But in the meantime, I'll just torture you with this adorable fall card.
I went into shopping overdrive in September and I got a lot of cute stuff. With Falliday Fest happening, I always give myself permission to get some new stamps in here for the challenges - and I swear I do my favorite cards for these challenges. It's a combination of the time pressure, the inspiration that gets me out of my creative ruts, and the fact that there are 30 creative prompts during the event.
This particular challenge was by Lisa Swarm
- who pretty much inspires me every day on
Splitcoast
. She's so creative and such a positive presence. Her challenge was perfect for a fall card - we had to use items that began with the letters in the word ORANGE.
So I used - (O)range Copics, (R)ed Copics, (A)lcohol Markers, (N)ew
Neat & Tangled stamps
, (G)reen Inktense blocks and of course (E)nergy in my little jumping mouse! We only had to use four of the letters, but as you know I suffer from Full Set Syndrome, so I couldn't quit at four! So Happy Fall, Y'all, from an energetic mouse!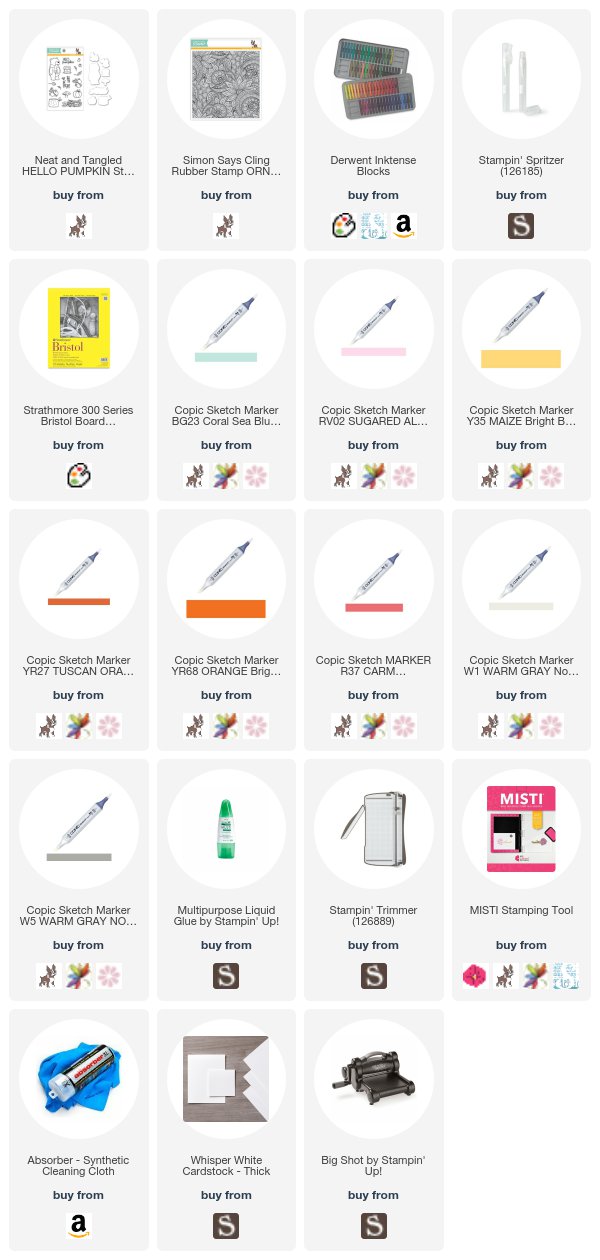 Isn't he the sweetest?
For the background, I just spritzed the
Ornate Background Stamp
with water, rubbed some
Inktense blocks
onto it and stamped it onto
Bristol Vellum
by actually putting the paper onto the stamp instead of the other way around - that's my favorite way to use big background stamps to make sure I get good contact. This one was just a "pick up" print - where I was actually done with the technique, and was cleaning the extra Inktense off the stamp by creating paler monoprints with what's left.
For some reason, I'm drawn to images of animals wearing hats and scarves. Or heck humans wearing hats and scarves. It's just so much FLAIR! But this mouse is especially dapper with his teal and white scarf. He's both formal
and
casual for his leaf jump.
We actually got a small taste of cooler weather this week - a few days in the 60's which is pretty cool for us. We're usually sweating in October, so it was a nice reprieve before it heats up again and all the little kiddos are melting under their Halloween costumes.
I hope fall is treating you well!
Loveyaasmuchasamouseinascarfmeanitbye.