Ever since I got the
Christmas Quilt bundle
, I've been waiting to make this card.
Full disclosure - I have a well documented fear of sewing machines. So that was not my attraction to this bundle in the least. As a matter of fact, it's amazing that I could overcome my suturaphobia (I just made that up but feel free to use it liberally) in order to even buy this bundle.
But I did because its geometry called to me like a little siren might.
I saw color and graphic designs in its angular parts and pieces and my mind went instantly to all the gel prints I have on hand for just such projects.
Now because I have a curious mind, I had to ask my friend
Mel
what this pattern was, because it reminded me of some southwestern motifs I'd seen in New Mexico.
It's called a Lemoyne Star pattern, and it's actually named after the founders of New Orleans - Jean Baptiste and Pierre Lemoyne. It was quickly nicknamed Lemon, apparently. If you want to research quilt patterns without ever having to touch fabric, I really like
this blog
paired with
Mel
.
I had pulled a NOT
Gel Press
print out of my pile specifically for my friend
Kelli's Falliday challenge today
to use colorful paper pieces and set it aside weeks ago. I'm calling it a NOT
Gel Press
print because it's actually the cardstock I was cleaning my brayer with during a gel press printing session. Sometimes those are prettier than my prints, and this one was a heart stopper. That heat map look I so love. My sister and I had been printing with some of the
fluorescent Cryl colors
and I really loved how bright they were.
Now I went crazy on the eclipse technique for this one. It's hard to see in this photo, but there are four layers of cardstock for every piece of the quilt pattern underneath the top colorful layer. So it sticks up quite a big off the cardstock and is very dramatic. Fun to piece together while listening to my latest audiobook -
Incendiary
- which is fascinating. I thought the sentiment from
Feather Together
was MADE for this bundle too. Really sweet for an encouragement card.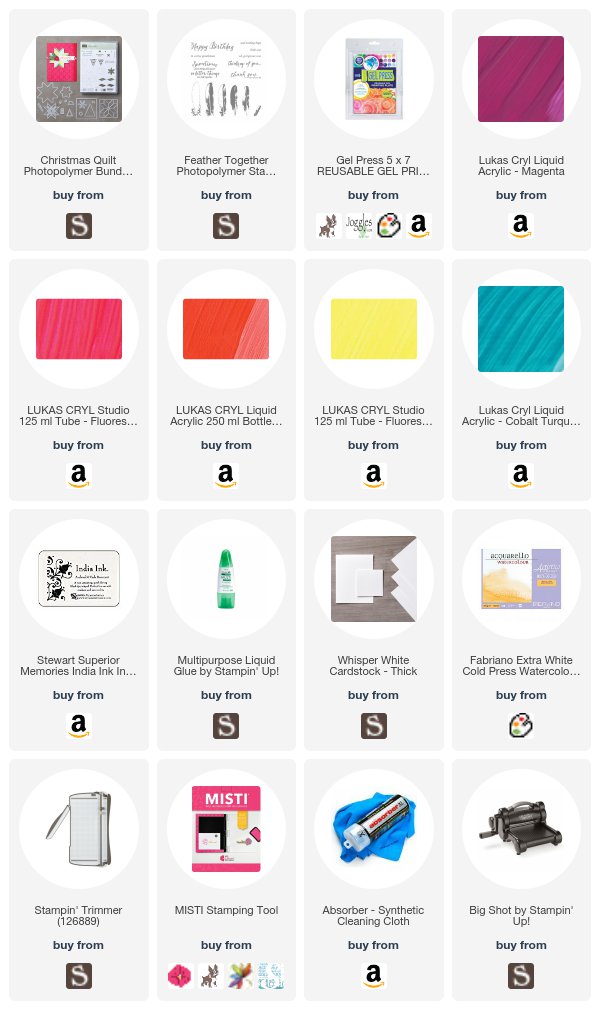 I'm headed out for a much-needed few days of fun with my tribe, so be watching for shenanigans on
Instagram
and Facebook, and don't have too much fun without me!
And since I'm late announcing my
Hope Bundle winners from this post
, AND since this print was created during the printing session for today's card, here are my winners! I'll be shipping your bundles and donating in your names next week! Thank you for your entries - you are amazing people - I loved reading your comments - it was inspiring.
Randa McNair
Joanne Howard
Francie Schlesinger
Sharon Stewart
Arianna Barbara
Nicole Redden
Helen Beattie
Fonda Rush
Geri Stuart
Barb MacAskill
Loveyameanitbye.