I love the first Monday of the month because it's
Hero Arts kit day
! But I really love THIS Monday, because
this month's kit
gave me sooooooo many opportunities to use blue in pretty much every medium I own. Also, it's "gloomid" outside today (I made up that awesome word when I walked outside this morning) - hot, humid and gloomy - and so looking at wintery images makes me happy.
Before you see the cards, please know this -
the kit - which is more than $70 worth of product for $34.99 - is while supplies last
, so if you like it, grab it
here
, then come back to read. The add-ons stick around forever.
I had a pretty busy weekend, so I had to multi-task. The first card came to me when I was listening to my most recent audiobook - the
Monster of Florence
(true crime) and cooking for the week.
The gloomid atmosphere is at the heart of this one, for sure - sweet blue bears in the mist.
To make this card, I set all the bears from
Winter Animals
up on my
MISTI
, and stamped them in
Blueprint Sketch ink
on
cold press watercolor paper
. Then I took clean water and painted over the whole scene. I repeated this process three or four times until I had the intensity I wanted. I have a video on this process
here
. I love
Blueprint Sketch
THE MOST, and I really love that I get color separation with it - as you can see with a bit of violet separating out. I die cut the bear with the
Happy Hanukkah Frame Cuts
and stamped the sentiment from the
My Monthly Hero Kit
on him and glued him down in the foreground. Those cool colors make me happy.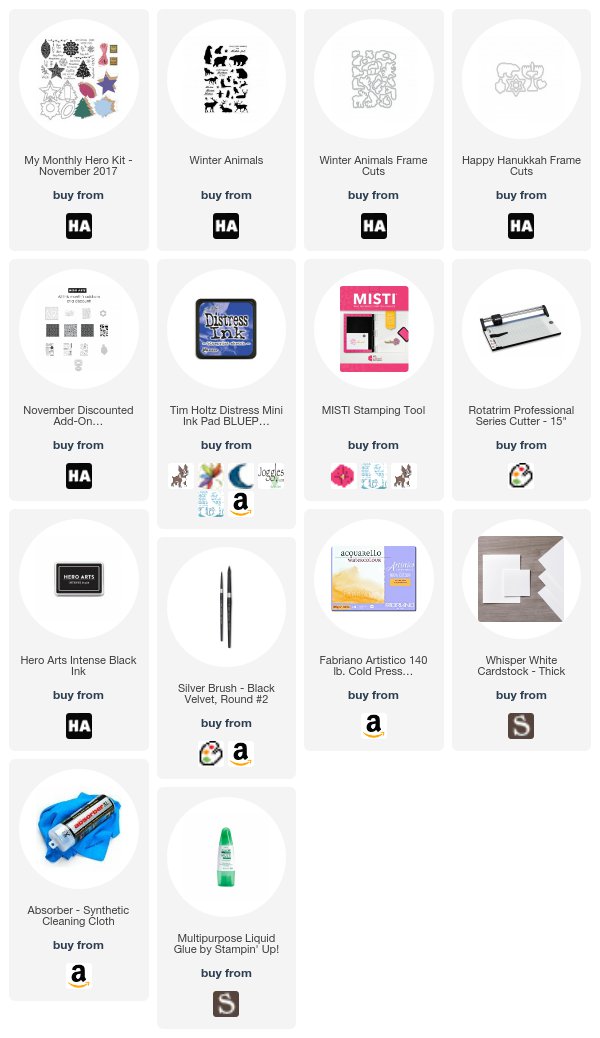 Since I had the bears set up and I liked the way they were arranged, I thought I'd do my
Sticky Atmospheric Watercolor technique
with
Paper Artsy Infusions
that I did in
this video
. I used
Versamark
to stamp the bears, and then
Sleight Blue infusions
and misted them with water as in the video. The different twist I did here is that I heat set them and then re-stamped them multiple times with the
MISTI
in
Unicorn White pigment ink
to make them show up a little better against the watercolor. The pink in this mix is so much fun, so I matted it with
Melon Mambo
, and put it on a
Marina Mist card base
. I used the geometric bear from the
Happy Hanukkah set
, along with the matching dies, to add a decidedly "apart from the crowd" bear. The sentiment is from the
Believe in Yourself Narwhal set
.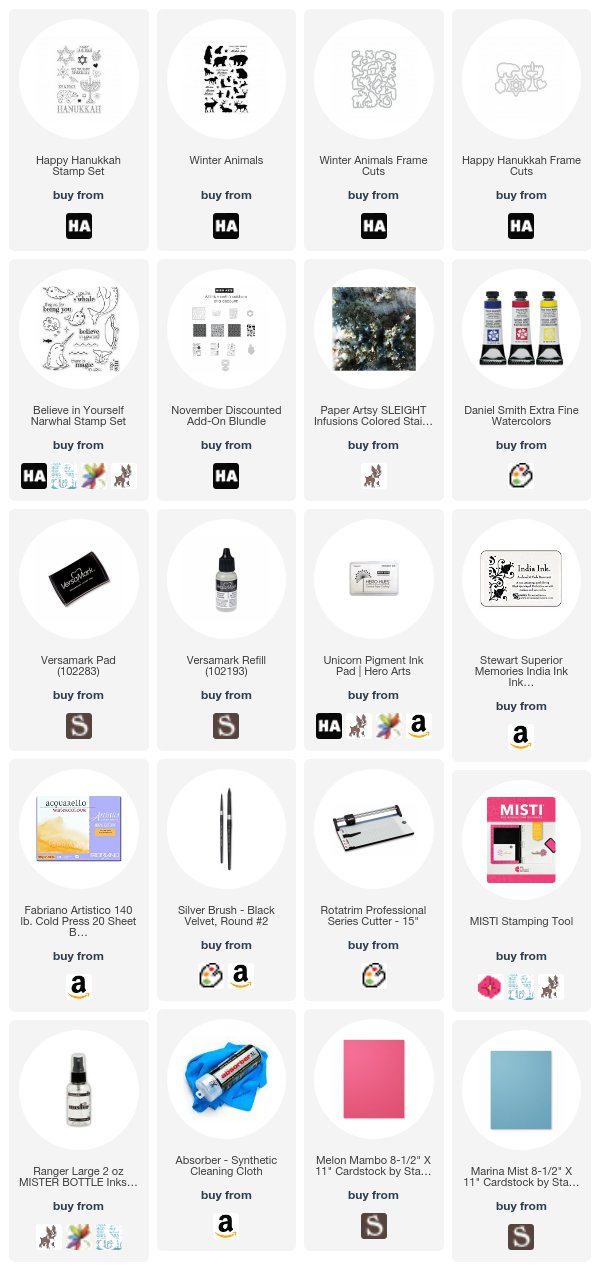 Next I wanted to try the background stamp that is an add-on. It's so geometric and wonderful - it's like a fractal.
I stamped a full sheet of cold press watercolor paper with the
Snowflake Pattern Bold Prints Background stamp
with
Versamark
, and then embossed it with Icicle embossing powder. Then I smooshed the Distress Inks linked below onto my Ranger craft mat and watercolored with them.
The dies in the kit are tag dies
so they have the holes already in them, so I added
silver and white baker's twine
. Can't wait to put these on gifts. I have three in the photo - but I made TWENTY of these :).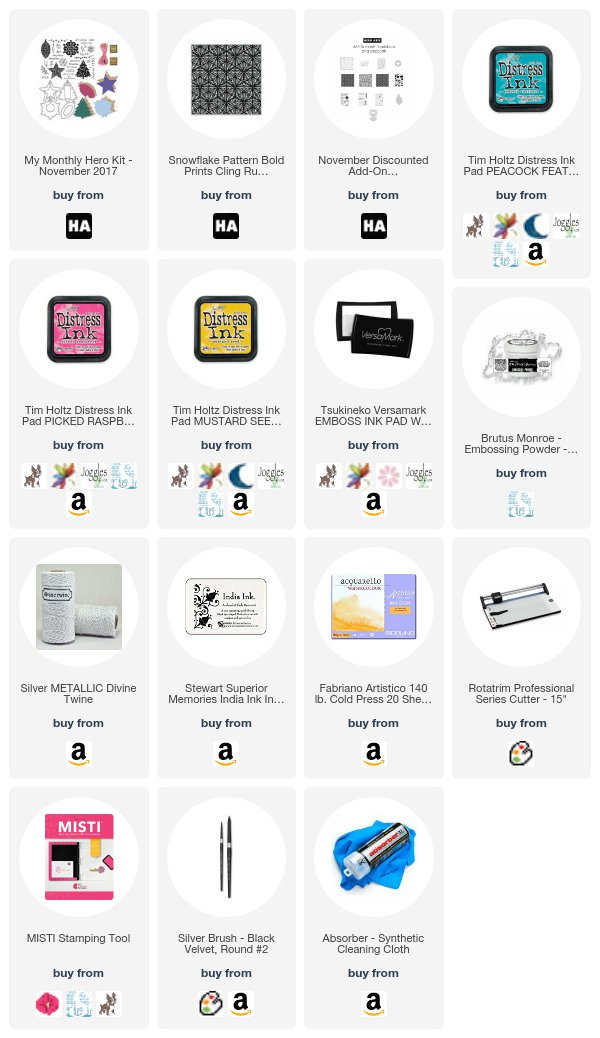 I used to have a booth at our Jewish Community Center's Hadassah Bazaar. I am not Jewish - I'm Lutheran, but our pastor (who was my next door neighbor) taught us the traditions of every Jewish holiday, and I celebrate them all in some small way each year, because Jewish history is so intertwined with all of the history of what I grew up with. Hanukkah is always captivating because it's SO BLUE. :) But in my childhood church we would recreate different meals for Hanukkah and Passover and I remember them all fondly (with the noted exception of horseradish), and absolutely loved my pastor for being so generous with his knowledge of other-than-Lutheran tradition. I also loved him for patiently tolerating my Virgo tendencies to be skeptical, and to ask hard questions. He answered every one thoughtfully, and with more than a little amusement at my irreverent, and exuberantly non-stoic nature, despite his overwhelming Scandinavian reserve and stoicism. I still cannot smell pipe smoke without thinking of this great man and great neighbor.
I wish more stamp companies would come out with fun, fresh designs for Jewish holidays - and you can all take my money if you do - so I was thrilled to see the Hanukkah add-ons this month from Hero.
For my first card - I used a sponge dauber and the
Tsukineko Delicata Golden Glitz Ink
from
the kit
- THIS IS LIKE THE DONNA SUMMER OF INKS - SERIOUSLY - with the
Glorious Petal Stencil
and a sponge dauber to create the background on a
Night of Navy card front
. Then I cut a strip out of the front large enough for the sentiment, and adhered
an acetate sheet
to the inside of the front of the card (hard to see here), so the sentiment is actually inside the card on a white panel.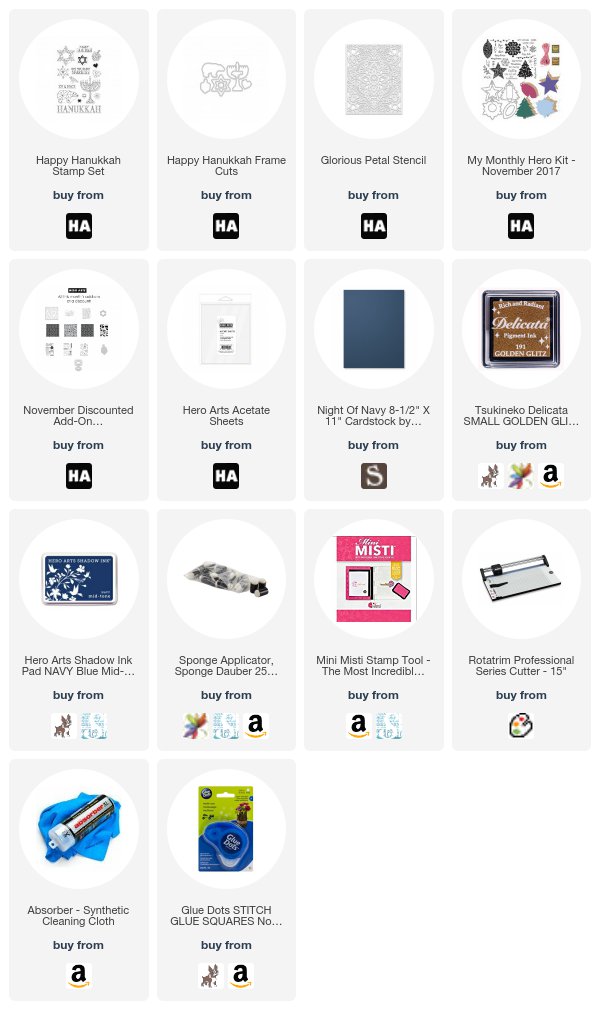 But I couldn't leave it alone with just a super elegant card - I had to try a CAS card with the
Happy Hanukkah set
,
dies
and a little Copic action. Love that modern geometric design.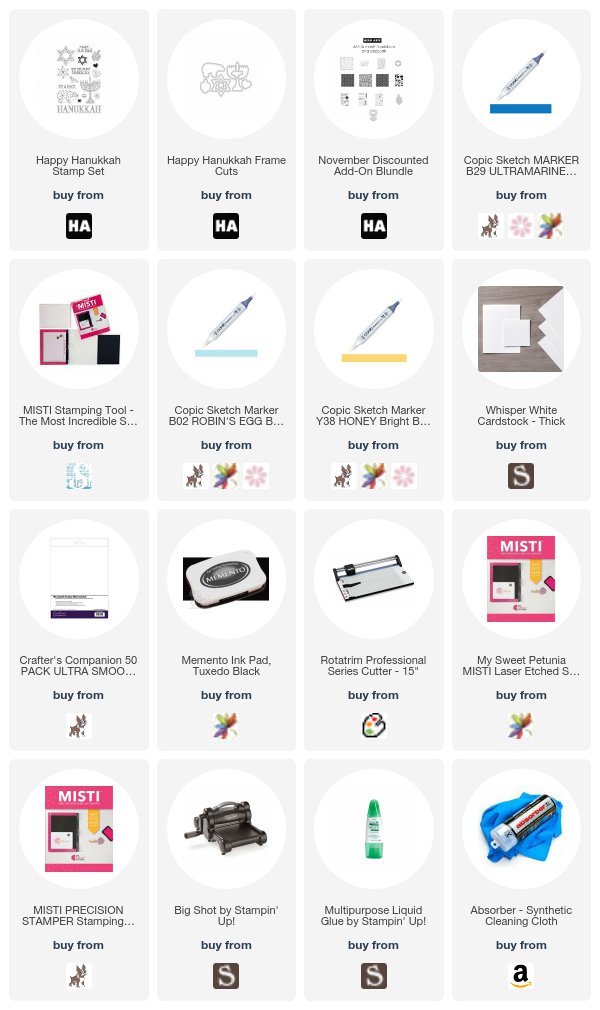 You know I'm not leaving you without a paper layering, dimensional card right? Again, the camera flattens all the things, and I wish you could see this dimension in real life - but this
paper layering Santa die
is meant to be a tag - see the hole in the top of his hat? Well he's also perfectly sized for a card, so I watercolored and embossed him for a card, and he is so cute.
The snowflakes are from the kit
, and they are stamped in
Cornflower
, and the watercolor wash is
Daniel Smith Verditer Blue
- those two are a perfect match.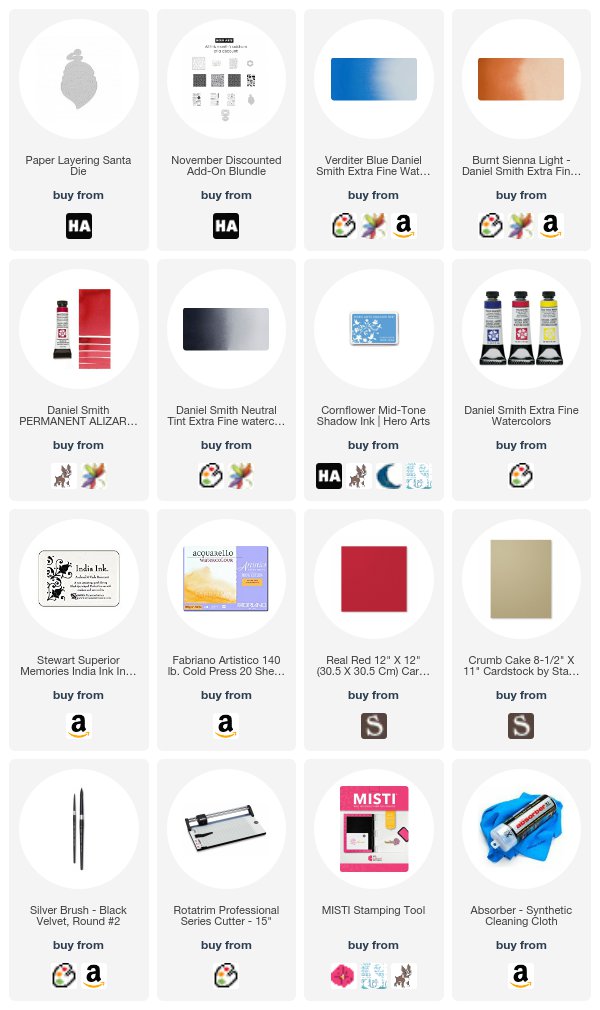 And finally - since I've decided this year to use some of the cards I've blogged for my Christmas cards, which means I have a 50 card head start this year, I thought I'd spend some extra time on the envelopes. I tore a piece of masking paper - I use this inexpensive stuff to mask - and I used the
Festive Star Bauble Stencil
and
Clarity Stencil brushes
to brush on some Distress Ink. Then I stamped each one with that adorable image from the
Holiday Labels set
. These take two seconds, and the ink is so beautiful on the
ultra-smooth Whisper White envelopes
.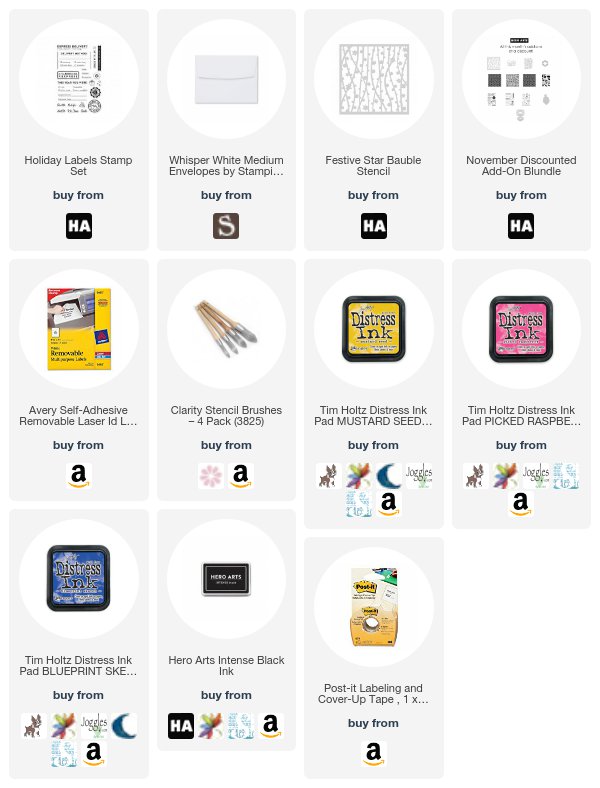 Finally - it doesn't have to all be about the holidays! I used the Snowflake Patterns background stamp, and the kit images to make tiny botanical vignettes. I love a good red and grey card and the pattern is abstract, so it can definitely be used all year.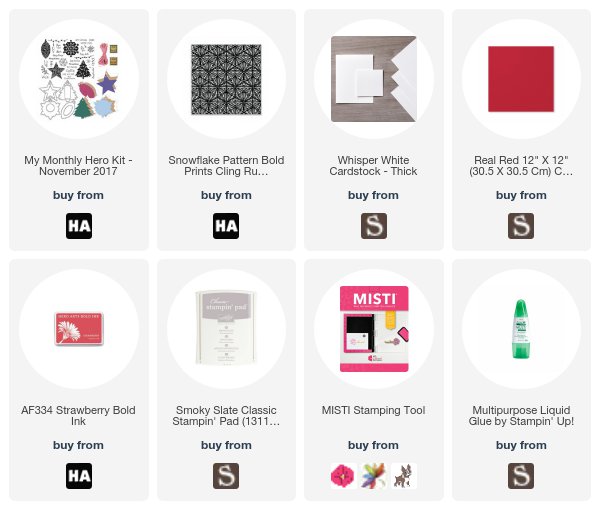 So there you have it! Now remember, they always give one kit away - or reimburse you if you've bought it, so be sure and stop by all the blogs in today's hop!
Giveaway closes

Sunday, November 12th at 11:59pm

, and the winner will be announced the following week. The kit is while supplies last, but the add-ons stay in the store.
Here's a bigger photo of what you get: