I grew up about 100 miles north of Houston. That part of the state is not designed for people who want any sort of control over their hair. The humidity will make you go right out of your mind. You actually can feel yourself rusting.
When I first moved to Austin I remember thinking how DRY it was. And hot. It took ten minutes to uncurl my hair here, whereas in Bryan if I even walked near a window it would go limp.
Slowly I realized everything is relative. Austin is extremely humid, just not as humid as Bryan. One more reason to move to the desert.
When I first saw atmospheric watercolor - I felt like it was the technique to describe my home town. It looks like the air feels. If you want to see some examples of atmospheric watercolor,
this woman
has a great collection of it. Everything is sort of melting into its environment, just like we did.
So with our hurricane and the accompanying weather drama I was playing around with atmospheric watercolor - we were stuck inside for days - which, to a crafter is no punishment - and I invented the COOLEST technique! Well I think it's cool. You'll have to see.
What I wanted to do was use
Infusions
to get an atmospheric look on
Gina K.'s new Stitched Leaves Kit
which is amazing. But powdered watercolor typically moves around a lot when you spray it and it's hard to just control the shape of it. However, I had a SERIOUS aha moment, which you will see in the video below. What you will NOT see in the video below is all the stupid ways I tried to make it work before my aha.
Now these projects are part of a mini blog hop today with some very special friends, and we have some unbelievable prizes for you - so stay tuned after the cards.
But here are my two takes on atmospheric watercolored leaves - first in traditional colors. Links to specific colors below the cards.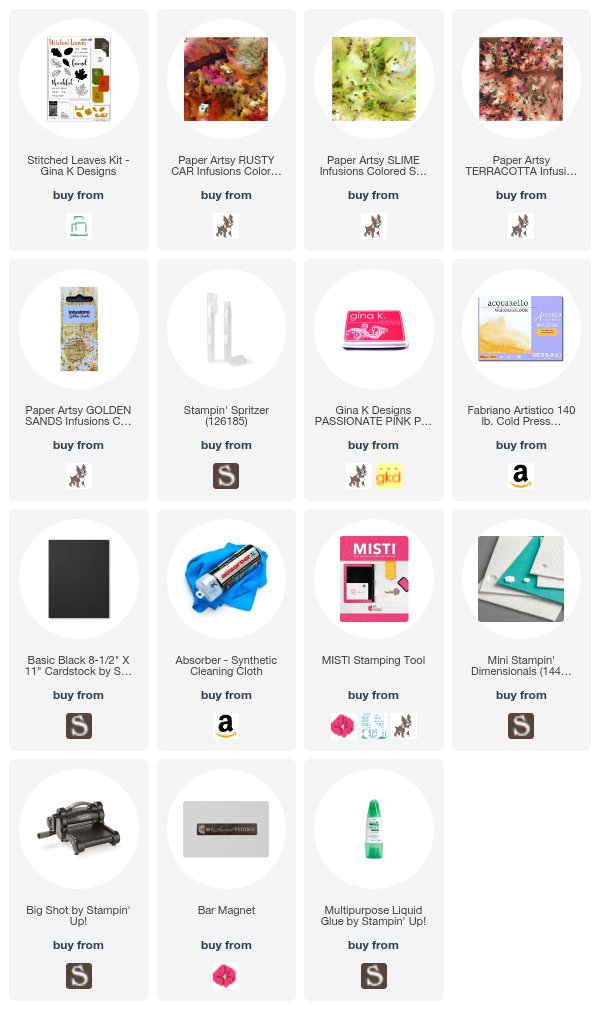 And here - a cooler, more wintery color scheme with more atmosphere. This one is my favorite. Her layering word dies are gorgeous!!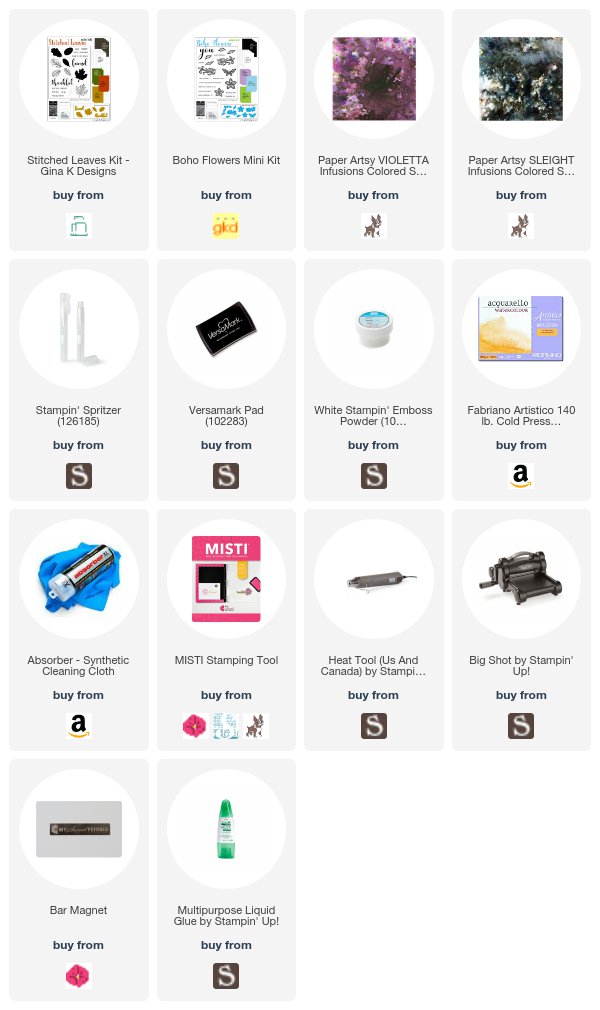 That green and lilac cardstock is actually from
Gina's Boho Flowers kit
, which I posted about
here
.
So want to know what I did and how I got the main color to stay in a leaf shape? Check out
this video
. I will most definitely be using this technique a lot for layering stamps. I call it Sticky Atmospheric Watercolor.
So here is what is in this stunning kit:
OH and before I forget - I wanted to tell you - these beautifully engraved bar magnets are now available at My Sweet Petunia. They are super strong, so you no longer need to worry about two of the round magnets snapping together. I LOVE these! They are
in her store now
- run get some!
Want to hear something crazy? Gina is giving away FOUR $20 gift certificates for EVERY STOP on our mini hop - all you have to do is comment for your chance to win! So sweet & generous. The winners will be announced September 5th on
Gina's blog
.
So go get
the kit
it's live right this second - and the dies come already on a Stamp-n-Storage die card, which makes me sooooo happy!
Here's our little mini hop - be sure and comment on each stop for your chance to win!:
Loveyameanitbye.