Oh - I didn't see you there! I was just walking around the house, perfectly coiffed, in my blue heels, carefully holding a single, perfect ornament! Can I offer you a canape? Something jellied, perhaps?
Honestly one of my favorite cards I've ever made is
this one I made for the Moxie Fab challenge
, which I miss dreadfully. I loved Cath's inspiration every time.
I still have that stamp set and will never get rid of it. It reminds me of the women on my mom's sewing patterns. Those images were so aspirational. I never learned how to sew, but I'm sure there are many people who were inspired to seamstress greatness by those artful images of women in beautiful, perfectly made clothes. I loved flipping through them, and still love looking at them when I go to a fabric store.
This stamp set reminds me of that stamp set in its clean style, and mix of 50's proper with just the right amount of sass.
And it's also aspirational. Because while we all find this so charming and attractive, we are actually much more likely to be wearing flip flops and capri pants while decorating the tree with the air conditioner on around here.
But this lady - I love her. I painted her with my neglected Mission Gold watercolors - the Peacock Blue and Clear Violet are beautiful together.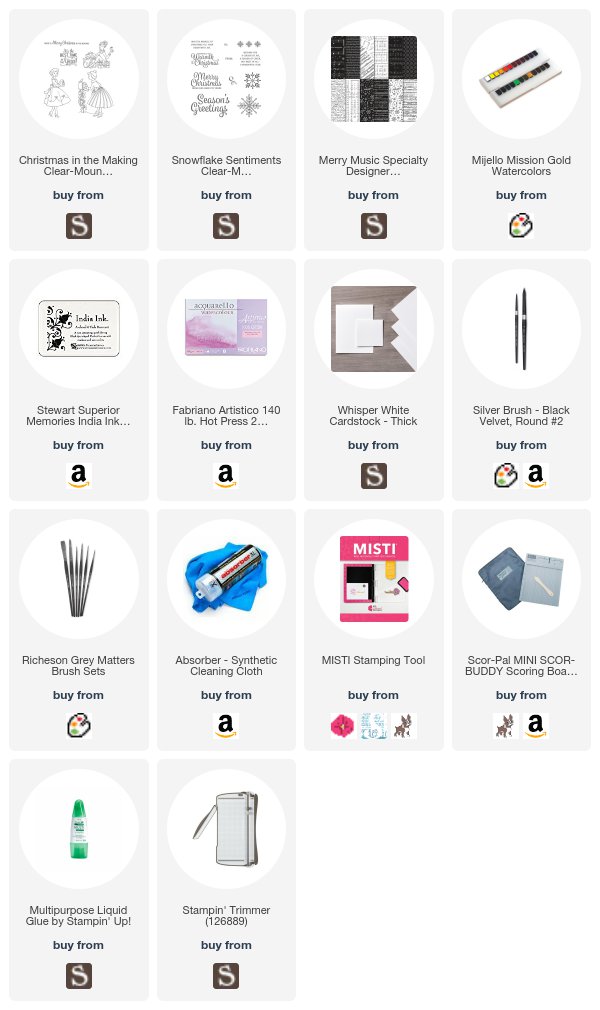 I also love that PAPER!!! I love all things black and white and this Merry Music DSP is the BOMB - EVERY SINGLE PATTERN. I can't wait until you can see it real life.
I am sure in this woman's house, the Christmas carols on the record player are at the perfect volume while she goes around her perfectly decorated home making everything just so, so I thought the paper would be a nice background.
So to celebrate iconic decades past - how about a giveaway?
You comment on this post with your favorite decade from the past and why, and I'll choose TWO people to send a set of MISTI Creative Corners to! Deadline to enter is Friday, August 18th at noon Central time.
And speaking of giveaways, r
emember, you can enter my August giveaway of an Arkon Pro Live Streaming Stand - the one I film all my tutorials with PLUS a ring light for the perfect lighting awesome selfies and live streams one of two ways:
Place an order in my store any time during the month of August for an automatic entry. BONUS - use host code 4BY7YKR7 on your order to be entered in a drawing for free Stampin' Up! products as well!
Comment on the post link right here (read the instructions there) and you'll be automatically entered. If you place an order in my store AND comment on that post, you'll receive two entries!
And remember - you can always use my code - UNDERSTANDBLUE - at Arkon for 20% off. They sell all sorts of mounts - hands-free phone mounts for the car, GoPro mounts, tripods, you name it. and they are GREAT people and provide great service.
Loveyameanitofftofindmyheelsbye.