There's a disturbing trend out there I need you to know about.
I hate to bring these things up - because I know they're traumatic, but this new trend is even worse than all the following things put together.
Misspelled or grammatically impossible "inspirational" quotes. #noragrets
Links that say "I thought it was just a grandma eating a sandwich and YOU WON'T BELIEVE WHAT HAPPENS NEXT."
Colored status updates on Facebook that say something fascinating like "I'm hungry."
Ads that include "this one cool trick" and get rid of belly fat, cancer or politicians.
Vaguebooking.
Fake news.
Yes - worse than all of these things is the newest trend...
fake "videos" of still images
HOW HAS THIS BECOME A THING TO PUT A PLAY BUTTON ON A STILL IMAGE? WHO IS RESPONSIBLE? FIND THEM AND BRING THEM TO ME.
I seriously do not understand it. I've seen it numerous times on Facebook over the last few weeks and it's 100% mystifying to me and makes me never want to click a play button again for fear of nothing happening whatsoever.
So there is no video in today's post :).
One of my favorite sets from the new holiday catalog is
Cheery Chirps
. I love the graphic, sort of Scandinavian meets Zentangle feel it has. I have made several cards with it you'll see in the coming weeks. This weekend, I had a little play time, so I applied my FAVORITE masking fluid (linked below) to the bird image, and then did ink smooshing with my Distress Oxides. I love the opacity of them, so I can layer greens and pinks without getting mud.
Then I just peeled off the masking fluid and had this dramatic background for my bird. I love that he's a scissortail! That's always been my favorite kind of bird. They were everywhere in the town I grew up in.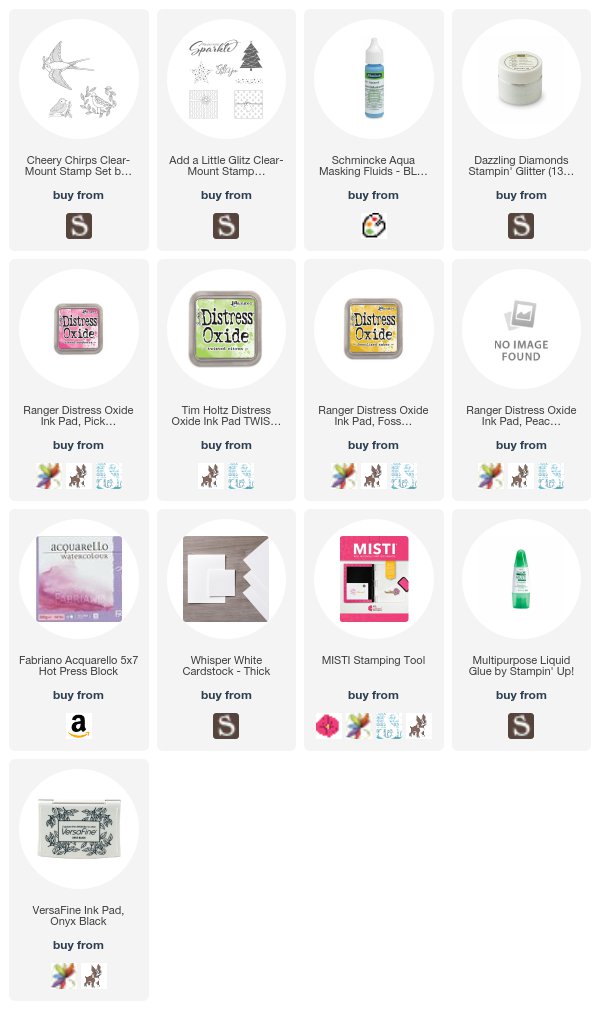 See? That's a still picture of a still picture. As it should be.
Sadly, you can't see how sparkly it is, because the human race has decided to spend its time putting play buttons and timers on still images instead of inventing a glitter camera. The state of our world, I swear.
I just put glue on every other stripe of his wings and tail, and added some to the leaves as well before adding all the glitter you cannot see. Hey - that would make a great book title! :)
The Holiday catalog doesn't go live until September 1, but you can get it AND put items from it in your bundle now
when you join my team
. Heck - I might even send you this card! :)
Please use this time to inform your friends about the danger of still photo videos please. I'd appreciate it.
Loveyameanitmaketheinternetstopitbye.