At 3 AM, I awoke to what sounded like a police helicopter or military drone buzzing right above my face. I shot out of bed, terrified, cats flying off me, and we tried to find it.
WE NEVER DID.
Of course I could not go back to sleep.
I'm too tired to be terrified right now, but I will be again as soon as the sun goes down and I'm locked in a dark room with "it" again.
All I am asking for today in return for my card is a set of pajamas, Kevlar, in a beekeeper suit style so I can get some sleep. If it has little pockets for Maddie and Splotchy great. If not - too bad. They should have caught IT before IT was hovering over my face at 3 AM waiting to murder me.
Did I mention how tired I am? Because I'm really tired. No one should have to get up at 3 on Sunday. Well some people should have to, but I'm too tired to list them here.
I'm bringing you my final card for our
Clearsnap Product focus
today - and yes, I had to use that
Jelly ink
again with the blues. It's just too pretty. I did a wrinkle-free distress ink smooshing for the background, and then flicked water and white ink onto it. I added die cuts from our sneak peek Christmas Bundle available this month -
Carols of Christmas
, as well as the hugs from
Lovely Words
, that I just snipped to remove from the circle. The background was done on watercolor paper and I put it on the
thick version of Whisper White
for the card base. Easy and fun - you can run the dies all through at once so it's a quick card.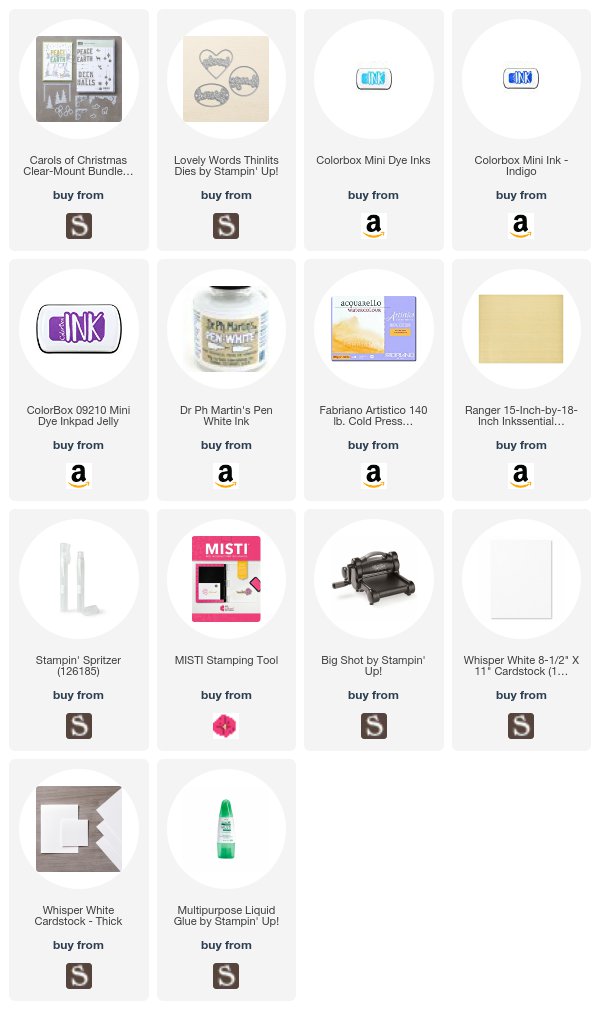 I feel like sticking that little deer on pretty much every card I make. I cannot get enough of the dies in that bundle.
A quick note on the Hero Arts kits for those of you that stopped by on Monday - the subscription option they have makes sure you never miss a kit - because they typically sell out in hours. So if you want to subscribe for September, you can do that here - but you need to do it by 8/28 at 8 PM PST to get the September Kit.

Remember, you can enter my August giveaway of an Arkon Pro Live Streaming Stand - the one I film all my tutorials with PLUS a ring light for the perfect lighting awesome selfies and live streams one of two ways:
Place an order in my store any time during the month of August for an automatic entry. BONUS - use host code 4BY7YKR7 on your order to be entered in a drawing for free Stampin' Up! products as well!
Comment on the post link right here (read the instructions there) and you'll be automatically entered. If you place an order in my store AND comment on that post, you'll receive two entries!
And remember - you can always use my code - UNDERSTANDBLUE - at Arkon for 20% off. They sell all sorts of mounts - hands-free phone mounts for the car, GoPro mounts, tripods, you name it. and they are GREAT people and provide great service.
LoveyameanitIneedanapbye.