This card has one of the longest backstories EVER.
Here goes.
In February of this year
Lori Craig
and I decided to split some Daniel Smith watercolor. She had just finished a great online watercolor class, and I had just signed up for it, and we wanted an economical way to get a really pretty landscape appropriate set of watercolor.
Little did we know that that would open the door to what is now a large Facebook group, nearly 6,000 half pans of watercolor and the worst communal case of Full Set Syndrome the world has ever seen.
On our way to splitting a full set of Daniel Smith with many wonderful friends, we learned a ton, got involved with World Watercolor Month, painted some pretty things and generally had a good time.
Each split is about $100 and had 25-30 colors in it. Each tube is split 5 ways, so it's a really inexpensive way to acquire these amazing, artist-quality paints that none of us could have afforded on our own. Goes to show you what can happen when smart people get together. If you're interested in joining the group, you can
submit a join request
.
Well the very last split was for the Iridescent group of DS watercolor. We were all dying to get our hands on these. So shimmery and beautiful. These are lower priced than the traditional watercolors in his line, so we did a larger split that had the complete line - more than 40 colors.
Fast forward to June. The original splits were all complete - I had squeezed paint into nearly 6,000 little plastic half pans, cured them and shipped them out, and I was on my way to Santa Fe, watercolors in tow. I went to my favorite art supply store that I save up to visit every year and splurge on fun new supplies, and I just had one "must have" on my list - a black watercolor ground. ANNNNDDDD they didn't have it. Oddly enough, they had other grounds in his line, but didn't even know that he had one. So I had to order it when I got home.
BUT THEN - I still couldn't post the card I made with it because it's for a Dare to Get Dirty challenge, which is this week.
So this card took 6 months to make!!! And possibly eighty billion dollars and 2,000 hours if you add up all the time and money involved in the splits. BUT IT'S REALLY PRETTY!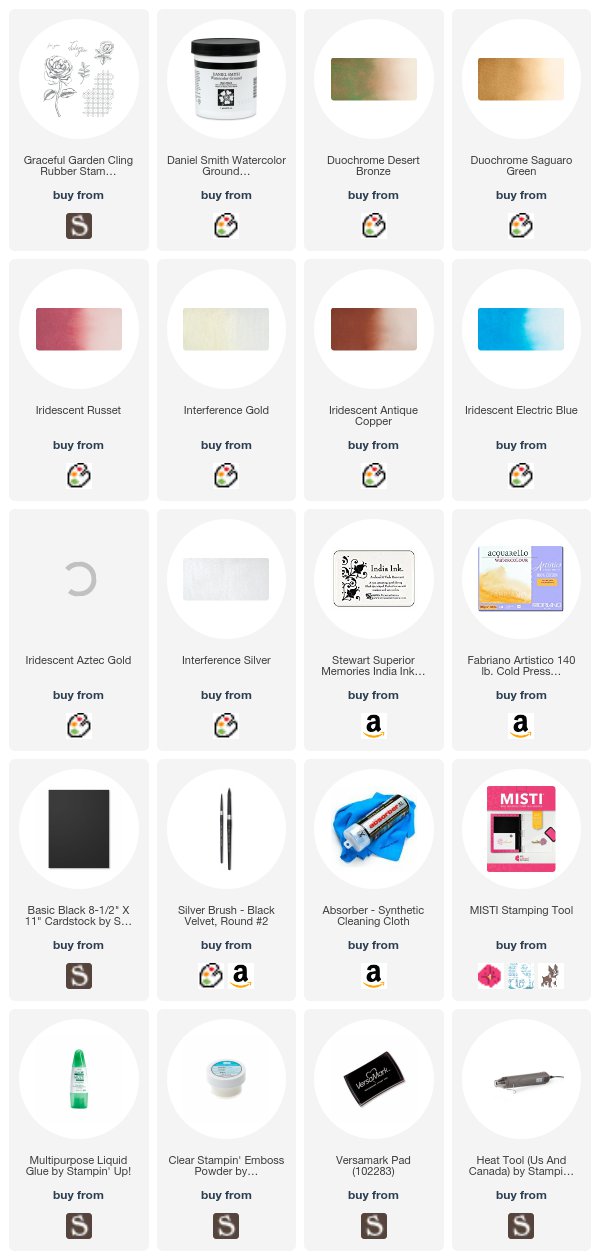 So a watercolor ground (linked above) is just a medium that makes a surface watercolor friendly. It's sort of like gesso for watercolor. Daniel Smith makes several, including this black, but also shimmery grounds which I'll show you soon - they are beautiful. So you can use the
gold
and
pearl
shimmery grounds under traditional watercolor for a different type of look than my black ground with the shimmery watercolor.
Seriously, there is no end to fun stuff in this world.
I'm super excited for the holiday mini catalog pre-order that should be here in a few hours! You'll just DIE when you see peeks. Well not really. The peeks won't ACTUALLY kill you. That wouldn't be very nice of me. But you WILL love them.
Don't forget my August Arkon giveaway has begun! You can enter now - instructions in
this post
!
Now go make something sparkle!
Loveyameanitbye.