The other day, because I love true crime and I am always listening to an audiobook while I craft, I was making yesterday's beautiful Christmas card while listening to - wait for it - a book about Charles Manson.
I cracked up when I realized how strange that would sound if I told you that, so of course I had to tell you. Because I'm strange and whatnot.
So speaking of strange, like you, I screamed and laughed and cried when I first laid my eyes on the
new cat punch
in the holiday catalog. I mean - it's like they made it just for me!! Several people told me that I was the first person they thought of when they saw it too, which made me happy.
But God forbid I just punch a kitty out of some black cardstock and call it done. OH NO, I SAID.
I have to do something strange and different or I would let you down! So after a conversation with my friend Tandra on FB (who does lovely work, by the way), I decided that I had to present her with the most twisted cat EVER.
A LEMON-LIME TWIST ZOMBIE MURDERER CAT.
So that's what I did. The legs of his victim are from
Christmas in the Making
- MUAHAHAHAHAHAH, and the bloody prints from
Woof
are in
Gina K's Red Hot ink
(her ink is amazing, btw), and the pool of blood and bloody print under his feet are a darn good Copic match to the Red Hot Ink if I do say so myself.
I drew his stitches with a Micron pen, and the little bags under his eyes. To do his face, I set the face stamp from
Spooky Kitty
up on the
MISTI
, and covered his nose and mouth with a post-it note. Then I inked the eyes in Versamark, stamped them and embossed them with
red embossing powder
for zombie eyes. I used a white gel pen to highlight his eyes. I shaded him a bit with Copics, and used a
hilarious Impression Obsession stamp
I bought at
my favorite stamp store
when I was in New Mexico.
I was giggling the entire time. I was actually mad I had to leave for a hair appointment halfway through this card.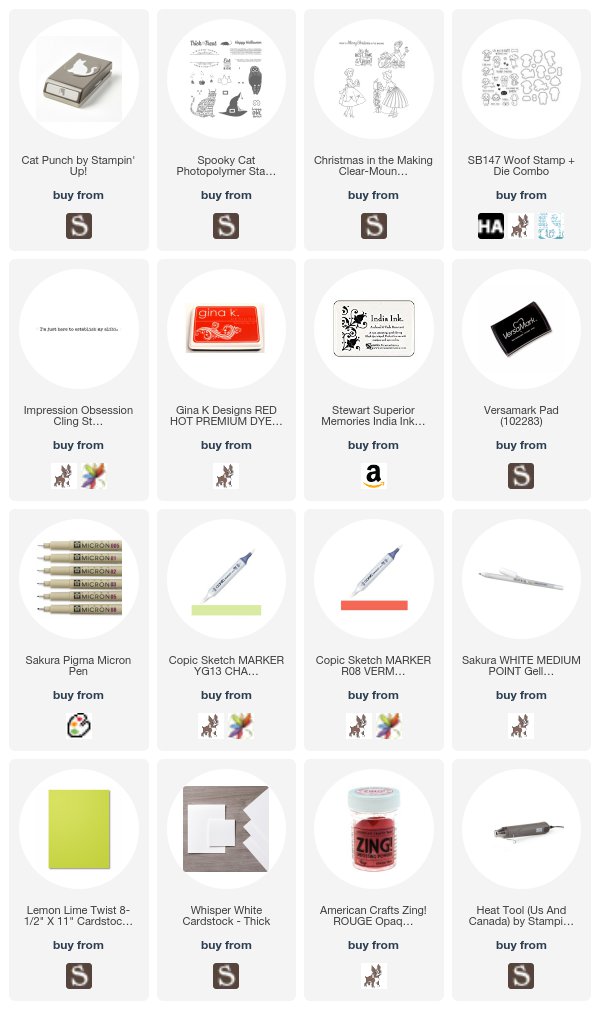 So this is fun - speaking of MURDER - I'm the guest on the
So Suzy Podcast
today! I love talking to her, and if you aren't subscribed to her crafty podcast, you should be - she covers every topic imaginable in the craft industry and has a lot of great tips. SO you can listen to us talk about our shared love for serial killers and true crime as WELL as my tips for doing retreats and in person classes by hitting the play button below the graphic!
You can subscribe to the podcast on Itunes, Stitcher (she says their feed lags a little behind her publishing) or IHeartRadio.
Now you can get all these sneak peek zombie cat murderer goodies in your heavily discounted starter bundle if you want them before September 1!
Also, r
emember, you can enter my August giveaway of an Arkon Pro Live Streaming Stand - the one I film all my tutorials with PLUS a ring light for the perfect lighting awesome selfies and live streams one of two ways:
Place an order in my store any time during the month of August for an automatic entry. BONUS - use host code 4BY7YKR7 on your order to be entered in a drawing for free Stampin' Up! products as well!
Comment on the post link right here (read the instructions there) and you'll be automatically entered. If you place an order in my store AND comment on that post, you'll receive two entries!
And remember - you can always use my code - UNDERSTANDBLUE - at Arkon for 20% off. They sell all sorts of mounts - hands-free phone mounts for the car, GoPro mounts, tripods, you name it. and they are GREAT people and provide great service.
Loveyameanitkeepaneyeonthosezombiecats.