I've been on a holiday crafting roll this month - sweating away my August dog days with chilly images and dreams of cooler weather. I was just telling someone the other day that I tend to avoid "hot" Christmas images like hot cocoa - I gravitate towards the frostier icons of winter, because for 364 days a year here, hot chocolate just makes you break into a mental sweat when it's 103.
So today I'm super duper excited to show you some things I REALLY had fun making as part of the
Hero Arts Wintertime Fun Catalog Blog Hop
! I am always tickled pink to see what their Creative Team has done with their new things, and it's an honor to hop with them! There are such great artists assembled in this hop today - so you will have fun.
I am obsessed with their
paper layering dies
for two reasons - they are large enough to watercolor a lot of detail on, AND I love that I can shape them with an
embossing stylus
to pop off my card in three dimensions. They are so completely unique in the die landscape - I think they're genius.
I watercolor mine and let them totally dry before shaping them, which I do by putting them face down on my
MISTI foam
, and gently rubbing my stylus in a circular motion on all the areas that need to pop out. They become completely sculptural. And, of course, it's impossible to see all the hills and valleys in a photo - but trust me - this bear looks so cool and 3D in real life.
My next favorite from this catalog is this awesome
Forest & Deer Bold Prints background stamp
and the
Bird Words bundle
. I love that their Bold Prints are big enough to cover a card front and then some, so I just use Hermafix to secure a card front in my MISTI and then stamp the background a few times until it's fully inked. Then I cut an inch out of that panel to leave space for a sentiment. I used one from the
Color Layering Koi stamp set
because I thought it was perfect with my Bird Word! :) There are actually THREE ink colors on this card - listed below. Can you tell what I did with the third, bird? :)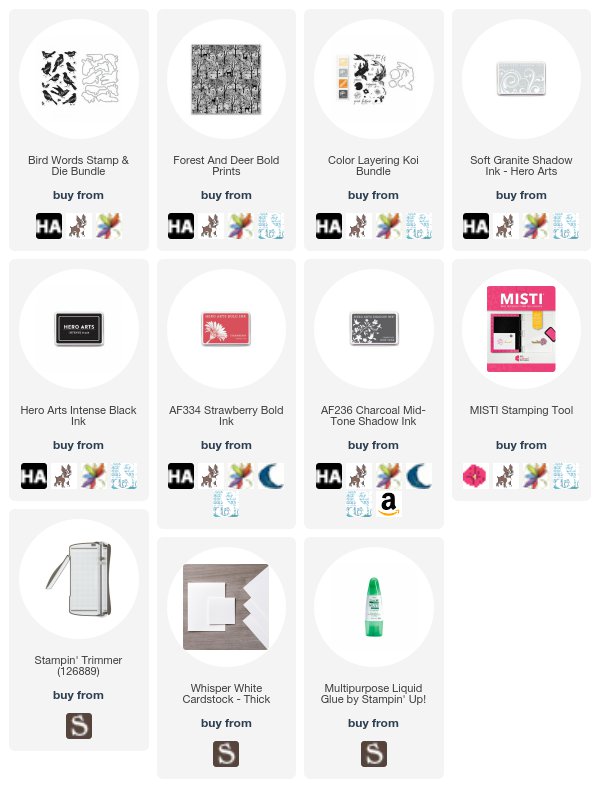 And OH MY GOSH THE FOX. This
paper-layering fox
is soooooo AMAZING!!!!!! LOOK AT HIM!!! I used the same shaping process after watercoloring his majestic little self.
For the background, I used my
Clarity Stencil Brushes
to brush on
Soft Granite ink
through the
Crossing Waves stencil
, which is one of my faves. I didn't want another color to compete with his glorious fur.
When I adhere these die cuts - I just add glue to the little frame part around the outside, so that the main part of the images stay puffy. I wish you could hold this in your hands and see the dimension. What a gorgeous image.
The sentiment is from the
Color Layering Dimensional Bird
set in Intense Black. The watercolor is Daniel Smith - listed below.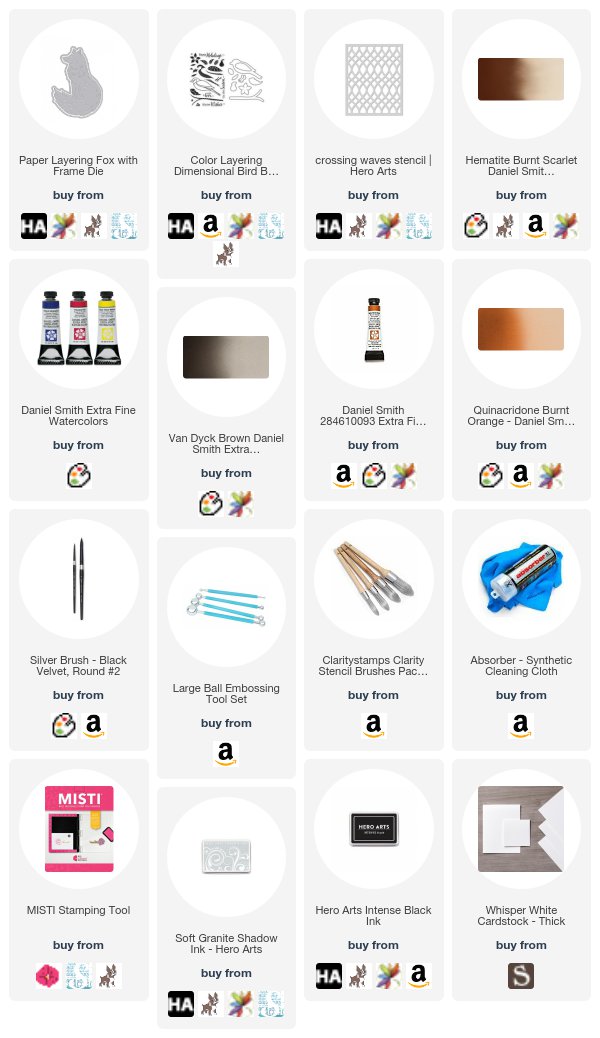 Finally - I made a set of notecards after a play session with the beautiful
Glorious Petal Stencil
and
Infusions
. I love those Infusions and all the color separation you get. That's just three colors of infusions, but they all separate and also have that beautiful warm walnut stain in them. I just did two of the wholel 5x7 sheet of watercolor paper - on the bolder two, I put the stencil down, shook infusions into the openings and spritzed with water. Then I let that dry a bit, lifted the stencil, and just set the wet stencil with color on it down onto a second sheet of watercolor paper for a lighter image. Then I cut each sheet in half to get two cards.
I used the
Prayers die
on all four - you can always use extra cards to send when someone hits a low spot. This was incredibly fast and easy, but such an impact with that beautiful pattern and all the color. Each one is different. And on that first photo - the little black die cut piece from the loop on the P - somehow I didn't notice it was stuck on the card when I was photographing it. So I left it in just to keep myself humble. Perfection is for serial killers, right? :)
Jessica Frost-Ballas
- she is always a wow. I can't wait to see her cards. The whole list is here for you - if you leave a comment on each post, you will be entered to win one of three $25 shopping sprees. Leave your comments by August 30th at 11:50 PM Pacific time to be eligible.
The Hero Arts Blog
Jennifer McGuire
Cathy Zielske
Wanda Guess
Kathy Racoosin
Ilina Crouse
Clare Prezzia
Yana Smakula
Lydia Fiedler
Jessica Frost-Ballas
Amy Tsuruta
Michelle Short
May Park
Libby Hickson