During my last retreat, there was great controversy. Since I do not allow news or politics at my retreats, we find other subjects to explore. And late one night, as we were flitting from one topic to the next, the dreaded and highly divisive subject of KETCHUP came up.
That's right. Ketchup. Nearly as divisive as subjects like mayonnaise and Keurig, ketchup conversations usually devolve into yelling and a high level of distrust for one another. This was no different.
The beginning of this story is contained in a confession from a prior retreat from my friend Dana that she hated ketchup. Not knowing that I was going to be destroying her entire universe, I told her she did not, in fact, hate ketchup, because the "fry sauce" at her beloved Raising Cane's is made with ketchup as is the "fry sauce" everywhere else in the free world. You would have thought I'd told her she had to spend three hours in a porta-potty. You could see her remembering eating this now hated substance willingly and innocently, while trying to remove her tongue with her mind. She was crushed. I didn't reveal that many, many foods, like BBQ sauce and a lot of asian sauces start with her mortal nightshade enemy sauce.
So this raw wound was opened at this retreat again, as the attendees started to discuss (and by that I mean yell about) the various applications where ketchup was and was not acceptable. Shouts of DENIED would follow anyone's terrible ketchup suggestions. Here's a short list:
Hot Dogs - ketchup is DENIED
Eggs - ketchup is DENIED
Steak - ketchup is DENIED - what the heck is wrong with you? This is why we can't have nice things.
Hamburgers - there were mixed feelings on this, mostly because of Wendy's and McDonalds.
French fries - allowed, but only if you DIP, not pour ketchup all over your french fries like some kind of animal.
BBQ sauce - it's an essential ingredient, but if you have a ketchup-induced mental illness of some sort, you may tell yourself that it's tomato paste, vinegar and sugar instead.
It was hysterically funny. Throughout the weekend, little packets of Whataburger ketchup (God's one true ketchup) would appear in Dana's crafty space and we'd hear her animated BWAHAHAHing.
Then yesterday - my friend Meg - God bless her little eyes - she posted a picture of EGGS sitting on top of JELLY that she was eating.
DENIED Meg. Eggs and jelly do NOT go together.
However, through the hilarious comment thread that ensued, I realized something that makes everything ketchup-related make sense. A shocking revelation.

ketchup is tomato jelly.
It is. You make ketchup the exact same way you make jelly. Add a fruit, some sugar, and something acidic. Boil it down. Stick it in a jar. Eat it on stuff.
You're welcome for me solving this case. It also PROVES beyond a shadow of a doubt, that jelly does NOT go on eggs. Not the tomato kind or any other kind. Neither does jelly belong on hot dogs or steaks.
Now speaking of tomato jelly - I just want to point you towards
one of my favorite recipes - my yellow tomato jam I make with my homegrown tomatoes
. Jam is a different process than jelly, so this is not a jar of ketchup. It's delicious.
So I made a card to calm you all down after that condiment controversy. I know you need to breathe.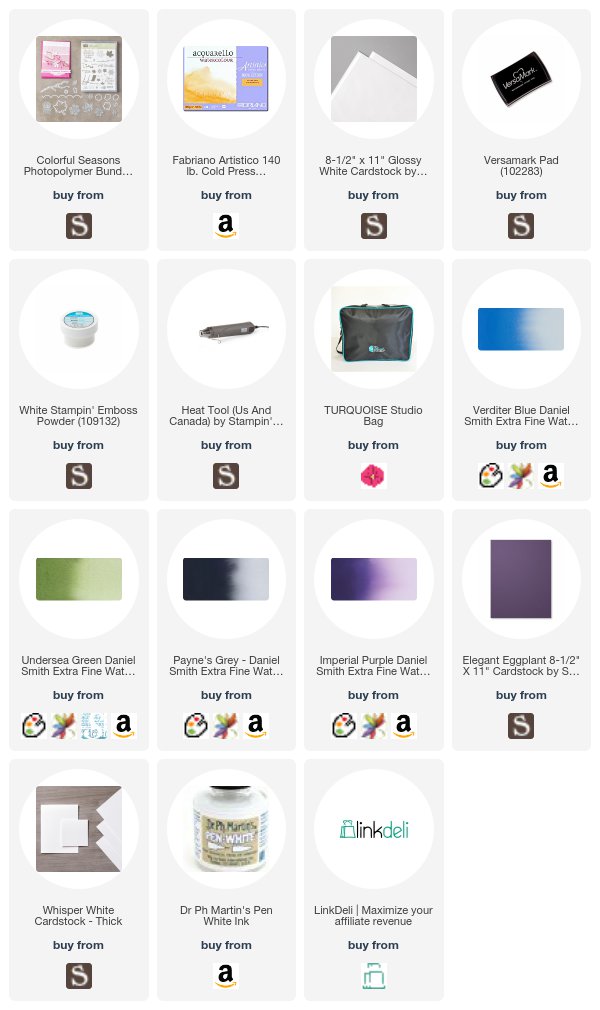 Colorful Seasons is one of my favorite bundles! My grandparents had Adirondack chairs on their beautiful screened porch that looked out over Chesapeake Bay. I loved that house. And I love this die so much. It makes such peaceful cards.
I just did a watercolor galaxy background, and spattered it with pen white ink. The sentiment from the set is embossed with white embossing powder. Then I mounted it on Elegant Eggplant cardstock and put it on a white card base. You can't see it here, but the chair is cut from glossy cardstock, so it's shiny like a painted chair like my grandparents had. The specific Daniel Smith Watercolors I used are: Undersea Green, Payne's Grey, Verditer Blue and Imperial Purple (linked above).
This was fun and easy to make. It's good to have a card like this on hand for when someone's ketchup anxiety takes hold. It happens more often than you think.
IMPORTANT NEWS!! The MISTI Studio bag introductory price
ends tomorrow so get yours while it's on sale here.
Remember, you can enter my August giveaway of an Arkon Pro Live Streaming Stand - the one I film all my tutorials with PLUS a ring light for the perfect lighting awesome selfies and live streams one of two ways:
Place an order in my store any time during the month of August for an automatic entry. BONUS - use host code 4BY7YKR7 on your order to be entered in a drawing for free Stampin' Up! products as well!
Comment on the post link right here (read the instructions there) and you'll be automatically entered. If you place an order in my store AND comment on that post, you'll receive two entries!
And remember - you can always use my code - UNDERSTANDBLUE - at Arkon for 20% off. They sell all sorts of mounts - hands-free phone mounts for the car, GoPro mounts, tripods, you name it. and they are GREAT people and provide great service.
Loveyameanitbye.