I was going to do this blog post yesterday, but I was busy occupying the ninth level of hell.
Why, you ask?
Well I'll tell you.
I had to go to the Apple store to get my dying phone replaced. I've had to do this twice with a 6S, because the batteries degrade to nothing, and they can't really replace them so they replace the phone for the price of a battery.
The Apple Store is bad enough. It's ugly, too bright and it STINKS. Not the store itself - the ungodly amount of unwashed people in it at all times. It's soooooo gross.
However, its grossness is dwarfed by the grossness of thing in which my Apple store is located - A MALL. Malls are so 1984. First of all, the air inside is polluted in several ways. WAY too much perfume and candle fragrance - you get a brain tumor within your first few steps - a migraine if you're lucky. But also it feels humid and stale like the air in an indoor pool enclosure. So there you are, breathing in BathandBodyWorksYankeeCandleNordstromDillardsCinnabon scents in this dense, humid air. It makes me lose my mind.
There are few places more disgusting than a mall, and yes, I've been in a gas station restroom. But this week's experience was really surreal for a lot of reasons.
When they repair your phone, they send you out into the timeless void of the mall while they fix it.
I wrote about that on my last trip to the store last April
, and how unnerving it is to be without a sense of time.
However, as I wandered the timeless void this time, I came to a stunning realization. This mall (and every other mall) LITERALLY has not changed since the 80s, with one exception - the addition of an Apple Store.
The same Footlocker from the 80s is there. The same Chick Fil-A is there. The same Cinnabon, Bath & Body Works, JC Penney, Brookstone, kiosks, Claire's is still there, but is now called Icing - but it's the exact store in the exact spot with the exact merchandise. There's a Spencers, Banana Republic, a Dillards. The more I walked, the more creeped out I was - it was like walking through a hideous, stinky retail museum on an episode of the Twilight Zone. How could malls not have changed in more than THIRTY YEARS?
Also, I started to notice that there actually weren't any other people anywhere. Except in the Apple store, of course. The only people in the mall were the ones working in the stores, and they looked bored out of their minds. I thought about all that lighting, all the inventory, and all the employees in this empty box of smells and despair. How long can these bizarre places survive? I don't think just the Apple store and mall walkers can sustain that entire mall. Oh - and at one end of the mall, the escalator was ripped from its moorings in front of Dillards and was lying on a pile of garbage on the level below. Like I wasn't already terrified enough.
It's time for something new. Something that isn't a box of 80's smells with an Apple store jammed in it. I've never been a willing shopper, but the open air malls are so much better than the scented brick box of doom.
I'm still shuddering at the thought, but I at least was able to make a card this week.
I did this card on Sunday with my team on Facebook Live. I wanted to show them an inking technique I featured in my
Hearts Come Home Online class
, but also how to use that bundle to create non-holiday cards, which in my mind, cuts the price of any holiday bundle in half.
So, using my MISTI, I created an ombre ink effect by stamping the
house images in the set
multiple times. (Inks listed below.)
On the left, on our team call, I tried to stamp a tree from
In the City
on the left WITHOUT the MISTI - dumb - and ruined it and had to cut that off. Oh well :). It ended up way cuter with the solid ombre trees from the bundle anyway.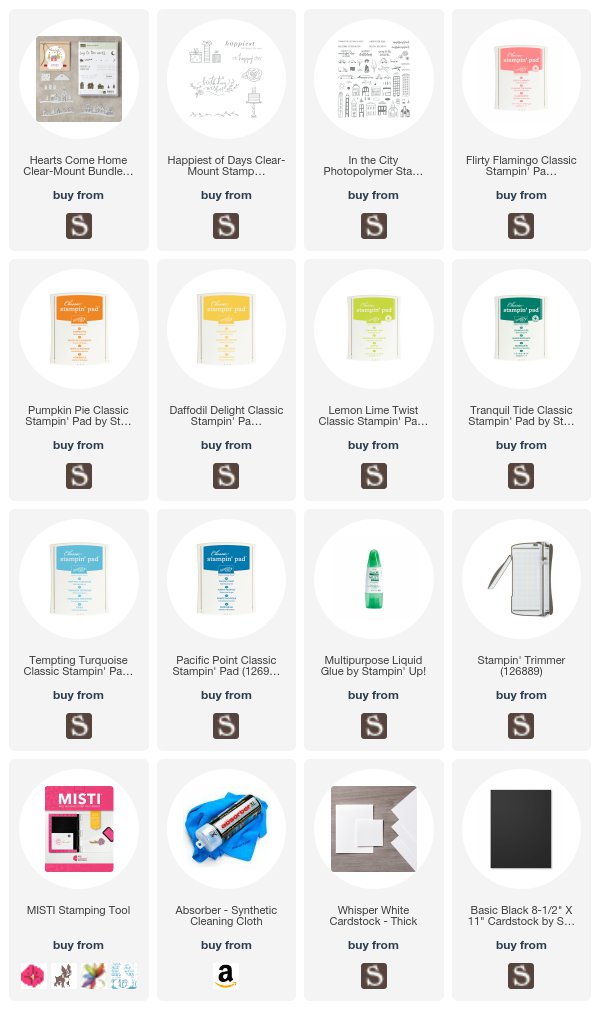 The sentiment is from
Happiest of Days
. Don't you love the little rocks? Those are from
In the City
. These two sets play so well together.
We had a ton of fun playing with this set in last weekend's stamp-a-stack. If you want the online class with this bundle,
check it out here
. And remember - if you
buy the bundle from me
, you get the class free! I'm a poet and don't even know it!
And until we meet again - please don't get sucked into the cosmic 30 year stinky timewarp known as a mall.
Loveyameanitbye.
You can enter my September giveaway of an Arkon Pro Live Streaming Stand - the one I film all my tutorials with PLUS a ring light for the perfect lighting awesome selfies and live streams one of two ways:
Place an order in my store any time during the month of September for an automatic entry.
BONUS - use host code M2U9DE6V on your order to be entered in a drawing for free Stampin' Up! products as well!
Comment on this post and you'll be automatically entered. If you place an order in my store AND comment on that post, you'll receive two entries!
And remember - you can always use my code - UNDERSTANDBLUE - at Arkon for 20% off. They sell all sorts of mounts - hands-free phone mounts for the car, GoPro mounts, tripods, you name it. and they are GREAT people and provide great service.