For the last few years, I've really focused on stamping each season in its time, because I always felt like I didn't devote enough time to Halloween and autumn/Thanksgiving projects. So I've tried to really balance my blog calendar and not letting Christmas run over these fun fall stampportunities. :)
So today is exciting because there's a special Simon Says Stamp Halloween kit being released right this minute!! This kit isn't part of their normal subscription - it's a special release and it's while supplies last, so don't miss out if you love Halloween as much as I do! The really cool thing about the thinlit that matches the kitty in the stamp set is that it EXACTLY matches the stamp - no border. So it's hard to tell what I did here, but I actually used the die to cut a hole in my galaxy background, and then I placed that frame around the stamped image on a piece of white cardstock that is behind the watercolored background piece - THAT is how perfectly the die matches the image. I created the background with Infusions and my spritzer, and when it was dry - I splattered it with white ink - all this is listed below. Then I used a Copic multiliner to etch the image with my stamp etching technique - adding those little lines. I used the spiderweb paper and black card base from the kit to finish it off. BUT WAIT - see the buckle on the kitty's hat? THAT GLOWS IN THE DARK! You get two small bottles of Nuvo Glow Drops in the kit - SQUEE!
Here you can see a picture I took of it in the dark
. So fun. I listed all supplies for both cards under the first photo. Some of the consumables will be available even after the exclusive kit sells out.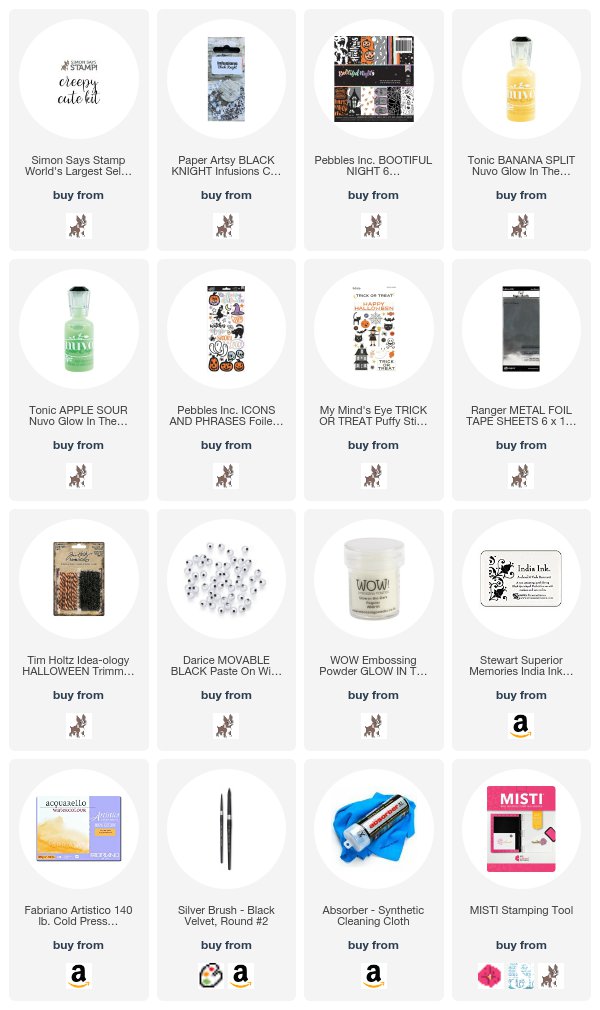 For the next card, I just wanted a simple black cat. So I embossed the cat image in white on watercolor paper, and then went back with the Infusions, lightening the kitty's face just a bit to reveal that sagey green that's in the black powder, because it's a perfect match for the pale green in the plaid paper in the kit, called Bootiful Night. I attached one of the braddies from the kit - I just removed the prongs and stuck two dimensionals behind the brad since I was attaching it to the card base and didn't want the legs of the brad to show on the inside of the card. It's so cute and glittery.
This kit is a while supplies last item, so if you like it, grab it! Here's a photo of the contents:
And check out the Simon blog for more inspiration from their designers - I can't wait to see it.
Loveyameanitbye.