I am super excited today to be a part of
Brian King
's Inking Royalty blog hop!
Brian and I are sort of matchmade friends.
We met at Leadership a few years ago, but only after about 100% of all of our friends said we HAD to meet each other.
They were all right. We were meant to be friends. We have so much in common - notably, our snarky and offbeat sense of humor, and our shared desire for the internet to be a positive place where people can get a break from the world. We accept each other's differences (he doesn't like corn or glitter or watermelon, and I don't like sweet tea or politics or math) like people should - with a lot of teasing and a sense of humor, which is really something the world needs these days. I'm very grateful for his friendship and for the amazing design sense he has. He sometimes shares his work in progress with me and I'm always asking "WHAT PAPER IS THAT?" Because he finds and uses things in fun ways I'd never think of.
But mostly, he's just a really, really kind and funny person, and that's also something the world needs more of. So I'm super honored to be a guest in his Tricked Out Treats blog hop today.
Everyone on the hop today is featuring something fun from the Holiday catalog, and since I JUST (like just this minute) got back from the
Blue Cat Cafe
and
Austin Pets Alive
today, I had to make a cat card.
But my crazy twisted TRICK on this Halloween card, is that I'm using Christmas paper!
There was this magnificent black cat at the cat cafe today that was a rescue from Hurricane Harvey - he had long hair and a bobbed tail and was completely regal. So I thought the "O come, let us adore him" in the background of my black cat against a silver moon was hysterically funny.
That is, after all, what all cats demand. Not too much to ask, right?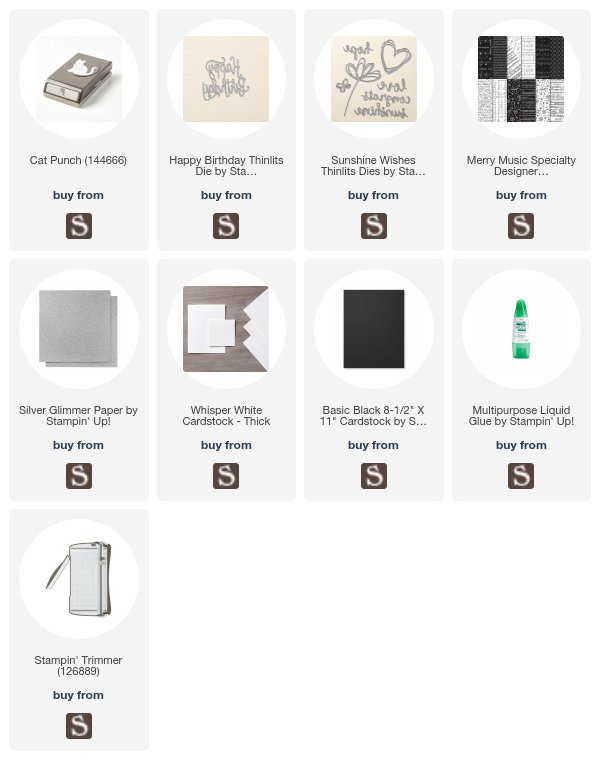 I used two sets of thinlits to get the Boo sentiment - in the supply list above.
So please hop along the list below and see what other tricked out treats my friends have in store for you - Halloween is one of my favorite crafting seasons, and I know all of these ideas will be amazing - I can't wait to see them myself!














​
Loveyameanitbye.