I know you've seen the news about Hurricane Harvey and what's happened in Houston. But I wanted to tell you some things you might not know about Texas and about Texans.
I was born in New York, but my parents moved to Texas on my third birthday, so as one of our bumper stickers says - I wasn't born in Texas, but I got here as fast as I could. Even as a three year old, I wasn't ready for the state. For the first little while (my birthday is in August), I would faint in the heat. They put a big hat and gloves on me. But that didn't last long - I think you acclimate to heat faster than cold, and I never knew anything else but Texas from then on.
All my life, though, I of course noticed we were stereotyped - even as a young child I felt it. We were "flyover country", I heard that in every election of my life. Or we were rednecks. Or people made fun of us when someone with an accent was interviewed after a tornado. Even the show Dallas made fun of us. I always felt like the only movie that didn't was
Giant
, and I loved that movie. John Wayne too, respected Texas, as did
James Michener
and
Larry McMurtry
.
When I went to college (back to upstate New York), I saw people mentally subtract 20 points from my IQ when I opened my mouth and my y'all came out. People asked me if I rode a horse to school. Also - all the boys thought I was in love with them because I would make eye contact and say hi to every single person I passed. Sorry boys - I'm just friendly! Texas is, in fact, so different from New York, that a sparkly belt can mean people mistake you for a hooker -
true story here
.
In a class my freshman year, on the first day, during introductions, my professor actually MOCKED me - repeated what I said trying to recreate my accent. I stood up, described specifically what he could do with himself (much to the surprise of my acceptably accented New York classmates) and stomped to the Dean's office to drop the class and unload a tirade which I'm quite sure his grandchildren heard about. Texans know how to take care of themselves, which is what you're seeing on the news. You have to in a place of extremes. I grew up with strange creatures in my yard - horny toads, zebra beetles, roaches the size of Louisiana, copperhead snakes our dog would guard us from, poisonous caterpillars (learned that when I caught one in preschool and the teacher wigged out, put it in a jar and lectured us for an hour), giant crawdads marching up the street from the creek, butterflies the size of your head, tornadoes, hurricanes and on and on. Most of the things in the environment here are trying to kill you, and the rest are really, really beautiful.
From first grade through twelfth, we learned Texas history. Yes, there's that much of it. We were our own country after all - I still refer to my home state as the Great Republic. Even our amusement park tips its hat to our history - Six Flags Over Texas. Did you know Texas has the authority to divide into up to five states without federal approval? Has your state had a war for independence from Mexico? My schools were named after, among other things, presidents of our former Republic. PRESIDENTS. I went to Sul Ross elementary, Lamar middle school, Stephen F. Austin junior high.
I tell you all that because what you need to know about Texans is that we identify as Texans first before anything else. It's stronger than our national identity or any other group we are a part of. Even outside of this country, if someone asks me where I'm from, I don't say America, or Austin - I say Texas. And for this reason, our fellow Texans are the most precious living things in the entire world. THAT is why you see what you see in Texas right now. THAT is why our
awesome grocery store chain, HEB, were the real first responders
, and that's why the guy in the
monster truck pulling a submerged Army vehicle out of the flood waters
, or the
guy in the bass boat
, are our heroes. That's why it doesn't matter if people make fun of those exact people when you see them on TV. We know exactly who they are. They are our neighbors. They are our fellow Texans. And if they need help, we will help them. And if we need help, they will help us. And yes, without stopping to ask who they voted for, or what color they are, or who they are married to. That is who we are. And as Larry McMurtry said in 1968 "Texas is rich in unredeemed dreams." There's more where all this is coming from. We thank you for your prayers, donations, cards and well wishes. And we say thank you for applauding the character of the people of our great state. They deserve it.
NOW to some very exciting crafty news - IT'S
MY MONTHLY HERO
DAY!!! It's so exciting when their kit lines up with a seasonal theme, and that's the case this month - it's all about fall.
In the spirit of Texas independence though - this year I'm liberating myself from fall colors and going 100% rogue. I'm focusing on bright, happy colors on my fall cards, and it's amazing what a difference it makes - it really helps show you how you can use your traditional fall imagery all year. Also - where I live in Texas, we don't have fall. We don't have much besides summer - so I can make this imaginary fall thing any color I want. BOOYA.
So let's start, before the kit sells out. I will start with
the kit
, because it's while supplies last - but remember -
the add-ons
are NOT limited time, so you don't have to worry about them selling out.
THE KIT
IS AMAZING! I love sunflowers, and by all means - please make them blue :).
The flowers in
the kit
are layering, and come with matching dies, and oh. my. gosh. are they heavenly. LOOK AT THEM IN BLUES!!! (inks listed below). I used the coordinating dies from the kit, and I thought the sentiment looked nice in
Indigo
instead of black. See below for the unexpected color combo on the stalks and leaves!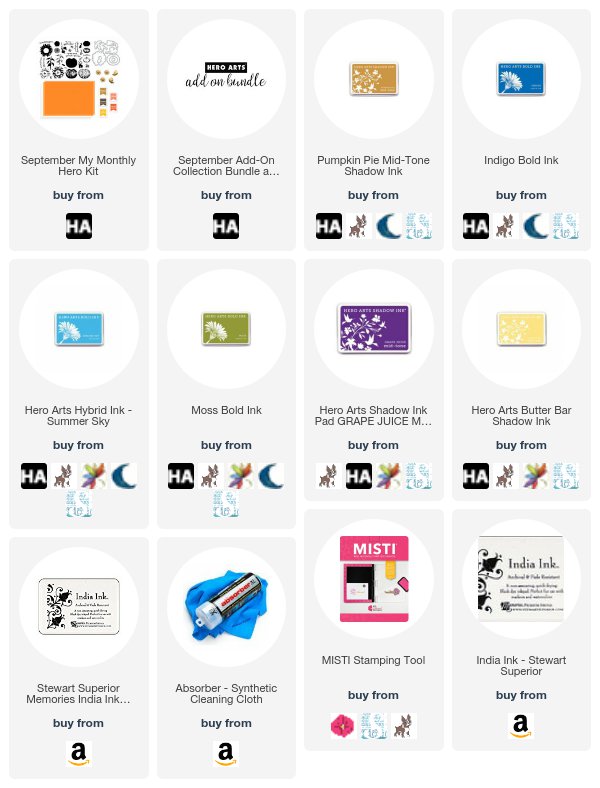 BE STILL MY HEART on
the add-ons
! Geez Louise - if a company asked me what I thought would be the perfect stamp - my answer would be
A STARRY NIGHT SKY
. Starry Night is absolutely my favorite piece of art on earth. I love how Van Gogh saw the world, and I truly do believe he painted what he saw. If you love Van Gogh as much as I do and want to cry your eyes right out feeling like you get a glimpse inside his head, please
watch this
- it's beautiful. The full episode is also amazing.
I embossed the background with white embossing powder on watercolor paper, and then watercolored it with
Daniel Smith watercolor
(colors below). Then I used the
Oval Infinity dies
to cut a piece of watercolor paper for a little planet, and watercolored that and the kitty. The sentiment is from
Dream Big
and the kitty is from the
Purr bundle
. I love this card, I'm not gonna lie. And combining
Neutral Tint
with bright colors (or any colors) is something I never grow tired of - that's what I did on the planet with
New Gamboge
.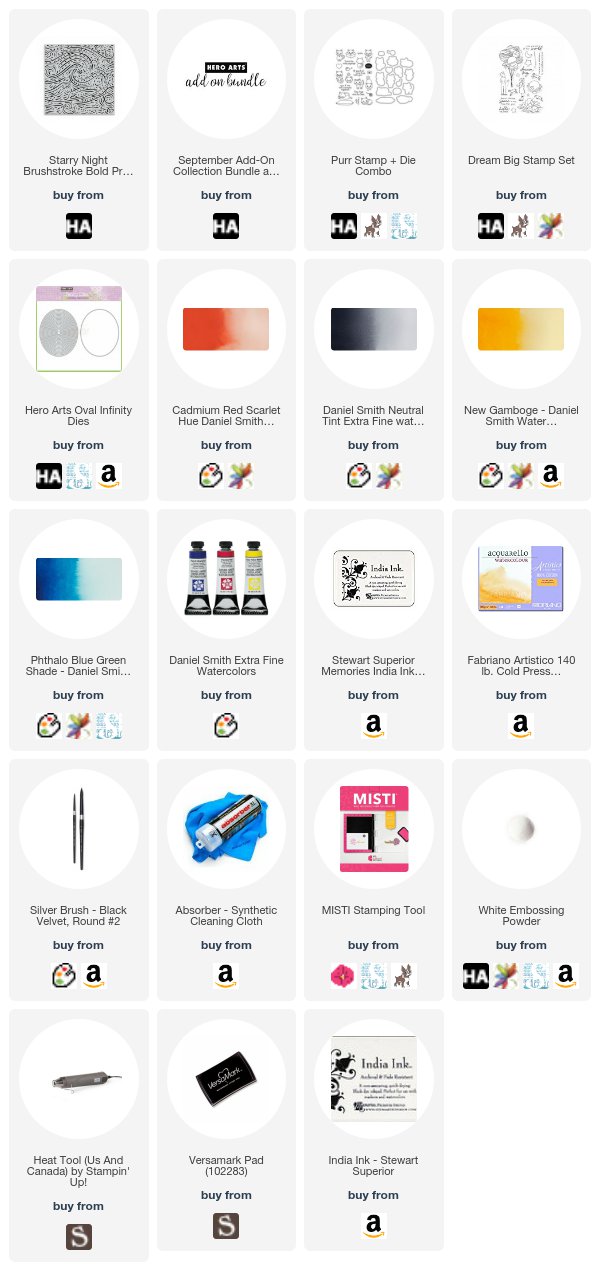 Now back to fall with a bright pop of pink! I had a
Gel Press
print that I had done with
Quinacridone Pink paint
that I dug out of my print pile so I could make the card that was in my head - just a high contrast, unexpected combo for fall. I inlaid just half of the inner pieces of the
Autumn Icons
die cuts in white - each of them are exactly divided into balanced halves, so I thought it would be fun just to do half. The sentiment is from the add-on set
Color Layering Thanksgiving
.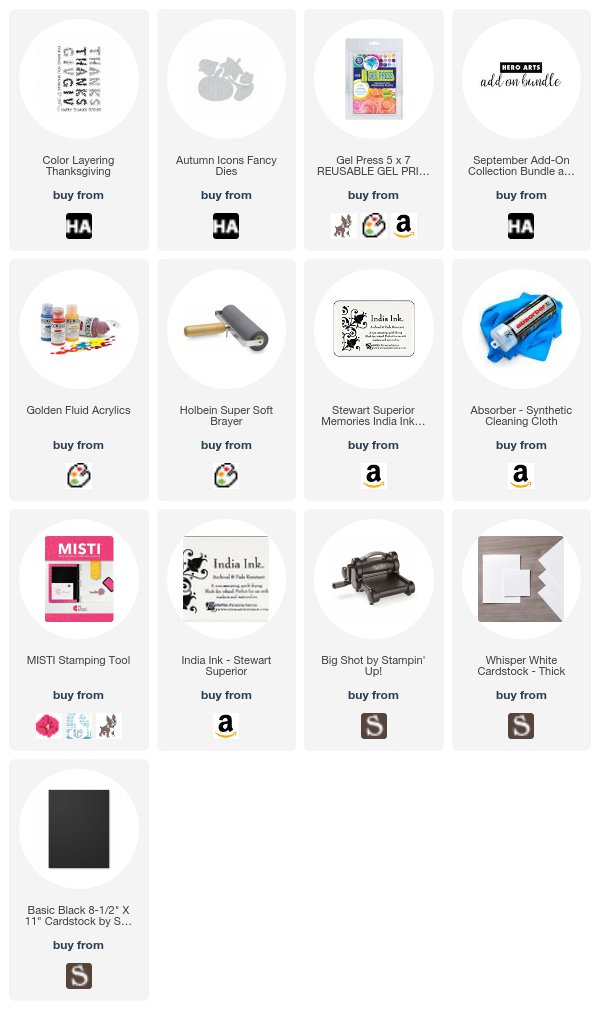 Now the next one really actually gets me in the feels even though it's hilarious. My sweet friend Angelique tweeted me a link to the
sweetest birthday blog hop ever
, from long ago, before my friend Leslie passed away. These were the BEST days on Twitter, and I treasure my friends from there so much. Our mascot became the blue squirrel from thence forward, and so when I saw this particular add-on, I knew that I had to make this snarky card for Leslie, and Angelique and that unique community that developed in such an unlikely place - the confines of 140 characters. So happy freakin' birthday, weirdo. :) I got you a blue squirrel.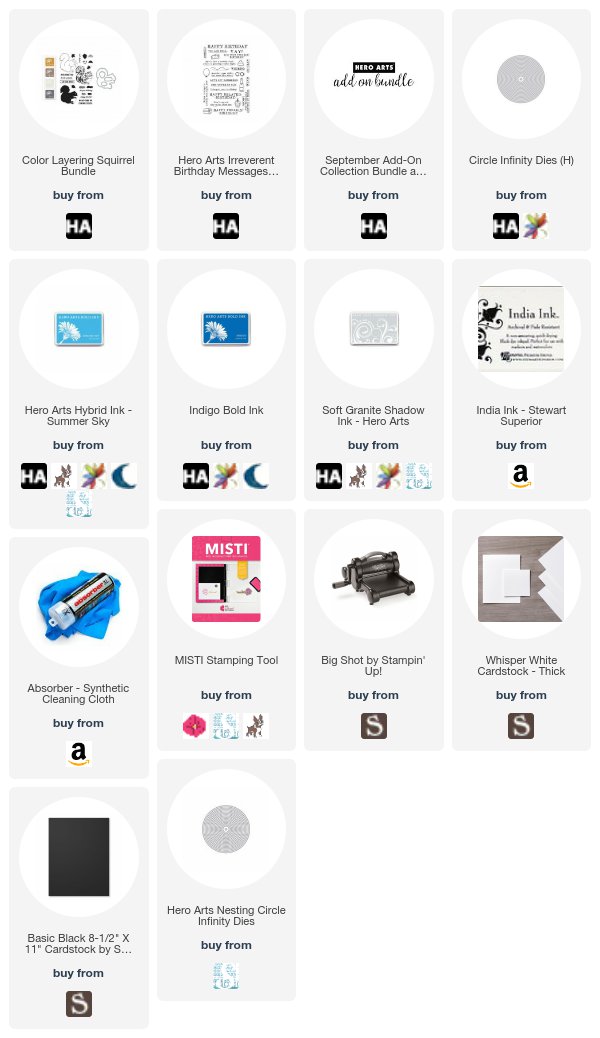 Next up - a rainbow pumpkin! This die is from
Autumn Icons
again, and I thought I'd try a watercolor die cut inlay. So I cut one pumpkin in black and one in
watercolor paper
. I watercolored the watercolor paper one and pieced it back in. I've linked to the watercolor below, but the colors I used are Quinacridone Pink, New Gamboge, Phthalo Blue Green Shade, Aussie Red Gold. Then I used
a grey pencil
(below) to shade each section to give it dimension. I used my
stencil brushes
to create the background with the
Glorious Petal stencil
and
Soft Granite Ink
. The layers were cut with the
Oval Infinity Dies
and the sentiment is from
the kit
.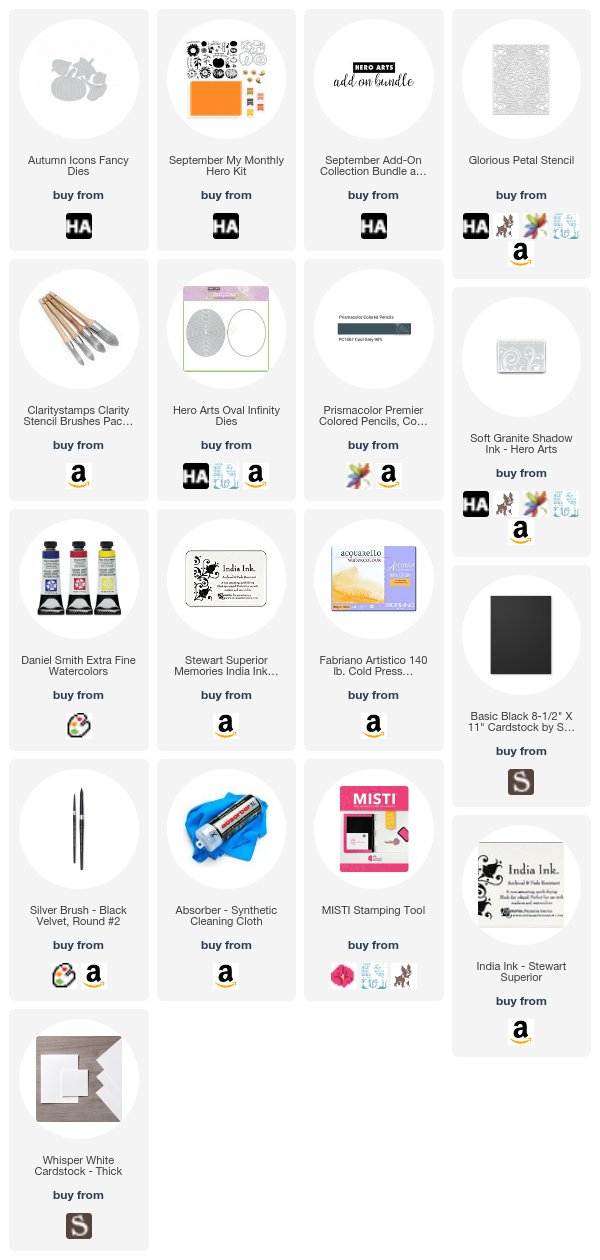 Now to the one that started my whole fiendishly bright fall trend - THE POP ART SQUIRREL CARD. I thought it would be fun to deconstruct
the layered squirrel
into three separate images and feature them on pop art colors. Now there was a tragedy on the way to this card. First, I masked off the squares using
this tape
on
this cardstock
. Then I painted each square with the colors of Radiant watercolor listed below. THEN I SPILLED A WHOLE BOTTLE OF
PEACOCK BLUE RADIANT WATERCOLOR
ONTO THE CARD. I did not cry but I may have cussed a little. However, I realized through the disaster, that that was the wrong color anyway, so when I redid it I did it with a much better blue. I left the tape in place and stamped the squirrel layers in Versafine before removing the tape. So hilarious. The Radiant colors used are Fuchsia, Chartreuse, Daffodil Yellow and Tangerine.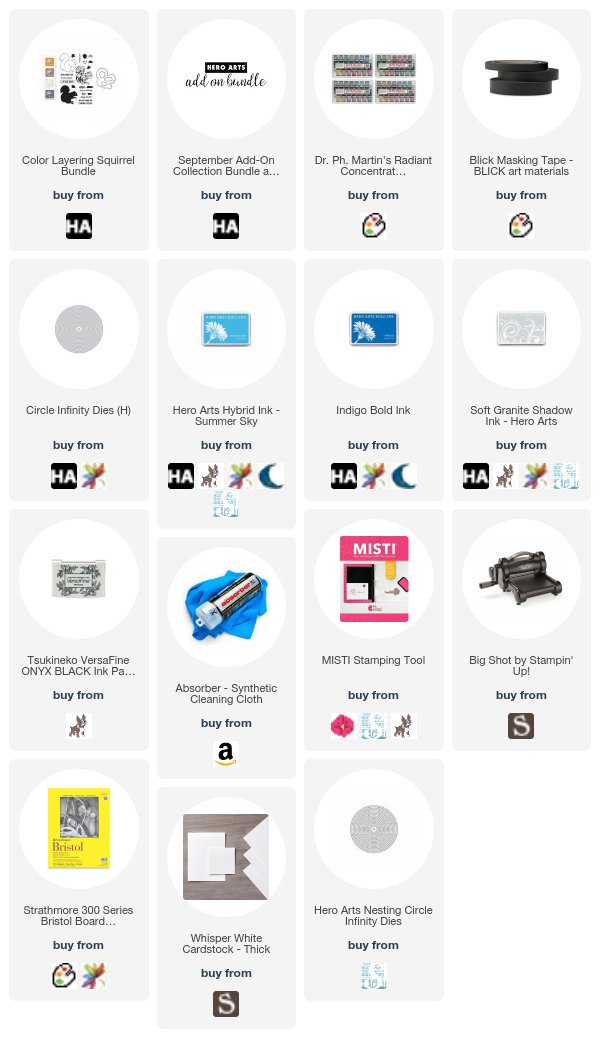 Finally - what fall card lineup is complete without cats?? I die cut the cats from
Luna the Halloween Cat Stamp Set
and
matching Frame Cuts
using watercolor paper and painted them and the hat and kettle. Then I glued them all down and stamped the bubbles in
Green Apple ink
. The hat and the kettle are popped up on dimensionals - you can see the shadows. The rest are glued down.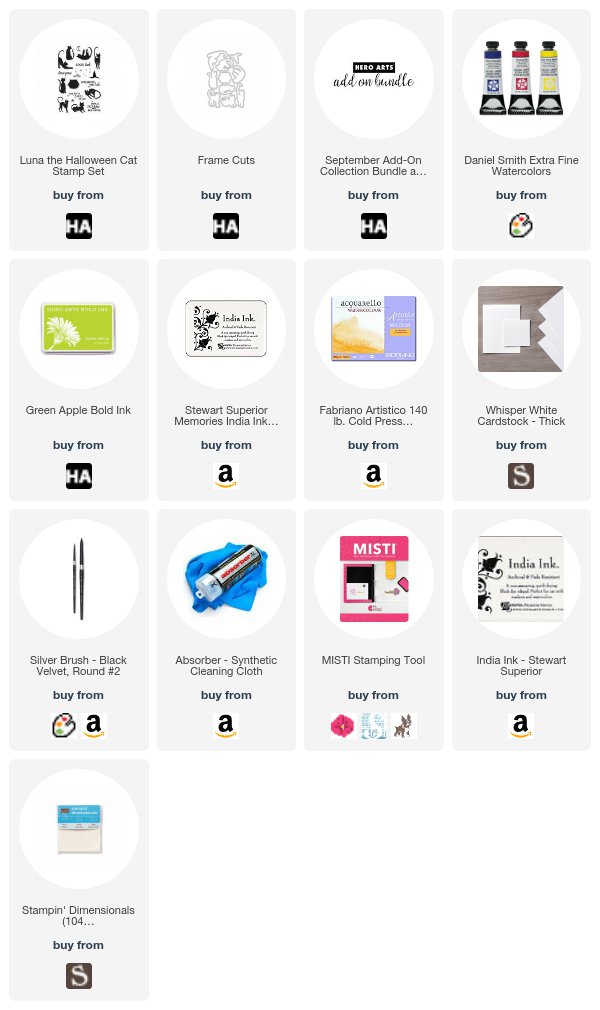 So want to see even MORE inspiration and have your chance to win the kit? Or a refund if you've purchased it. All you have to do is comment on every stop on the hop by 9/11 at 11:59 PM PT!
Here's what's in the kit:
Kit contents:

1 6" x 8" Color Layering Clear Stamp Set




8 Coordinating Frame cuts




5 Ink cubes (Butter Bar, Cup O' Joe, Orange Soda, Pumpkin Pie and Tangerine)




2 Brass sunflower charms




2 Brass leaf charms




2 5.5" x 8.5" Pumpkin Vellum 30lb




2 5.5" x 8.5" Moonrock Cardstock 80lb

The kit value is $70, an amazing deal at $34.99. So go see my friends!

LoveyameanitSQUIRRELbye.