One of my favorite sets in the current catalog is actually a type of set I don't typically buy - and that's a sympathy set.
The sentiments don't always feel right to me - and that's really just because I never really know what to say when something bad happens.
The other day I came across a woman who is a cancer survivor, and I read the article about her, and realized that just because you don't know what to say, that doesn't mean you shouldn't say anything. I think you'll enjoy
her story and her frank cards
. (Warning - there is some explicit language there.)
But this year, I found a sympathy set that I ADORE. It's called
Sorry for Everything
, and it has this HUGE Sorry and then a bunch of matching sentiments. Stay tuned for some hilarious cards with this set soon. (One in particular cracks me up, but it won't be up for a few weeks.)
So the first time I inked it up, I could not resist pairing it with a green, ill little
Blah Bunny
and my favorite eye stickers from
this post
.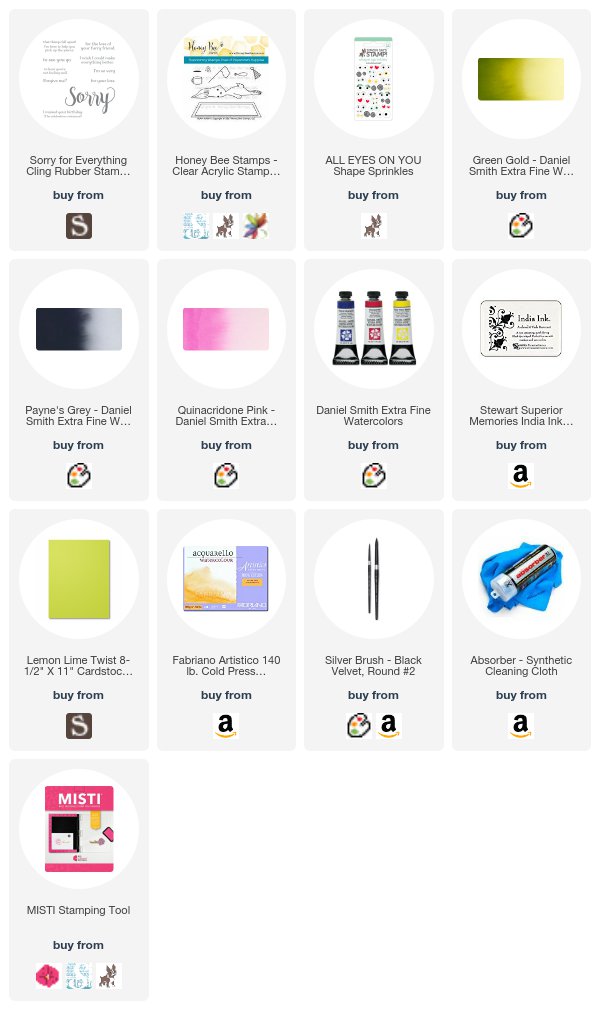 Isn't that watercolor a perfect match for Lemon Lime Twist? Love it.
That bunny KILLS me. How you can be THAT cute when you are THAT sick is beyond me!
Two important things - the introductory price on the
MISTI Studio bag
is ending on August 4th, so if you haven't gotten one - do it now
here
!
Next - my August
Arkon
giveaway begins TODAY!! To be entered for August's drawing for an Arkon Streaming Video stand plus a ring light, leave a comment on this post that includes the phrase "I want to win Lydia's Arkon package for August." And remember - you can always use my code UNDERSTANDBLUE on the Arkon site for 20% off any time.
I lied - THREE things! The pre-order for the BEAUTIFUL holiday mini catalog starts today! If you
purchase the starter bundle
this month, you can fill it with these preorder beauties at a huge discount and with free shipping! I'll be peeking some goodies when they arrive. I set my alarm for 4 AM today to get my order in!
Have an awesome Tuesday!
Loveyameanitbye.