Although I really don't want anything to do with the ocean or rain or water in any form but ice in a glass, I do love mysterious and quirky sea creatures a LOT.
My favorite I think is the sea lemon. I saw these first at the Monterey Aquarium. My dad used to go to a conference in Santa Barbara every summer, and I went along sometimes. Santa Barbara is magical. Much of California is magical, as are most places where from time to time the earth gets crazy around the Pacific rim.
I remember walking past the tiny window into a small aquarium set into the wall with the sea lemons in it, and doing a double take. They looked like caterpillars with giant crepe roses on their butts. They were so flamboyant and ridiculous. They came in many colors, some with spots and stripes - but they were all delightful. You can see sea lemons
here
. THEY EVEN HAVE LITTLE PIKACHU EARS. #idie
Recently another adorable creature has come into my world via a Facebook friend. Wait for it - it's an
axolotl
! SERIOUSLY RIDICULOUSLY CUTE. They SMILE, for God's sake! Insane.
So today
at Splitcoast we are doing a product focus on a very fun medium
from Clearsnap called
Colorique
- which is meant for non porous and semi porous surfaces - ceramic, leather, wood, etc. And I had so much fun experimenting with it. You can see my free play experiment in a video below my cards.
But before I tried it for its intended purposes, I HAD to play with it on paper.
First, I tried putting salt on it while it was wet. It reacts beautifully with salt! That's how I made my background for my - SQUEE -
axolotl
! I colored him with Stampin' Blends in Bermuda Bay and Rich Razzleberry. The
Colorique is Turquoise Mountain
.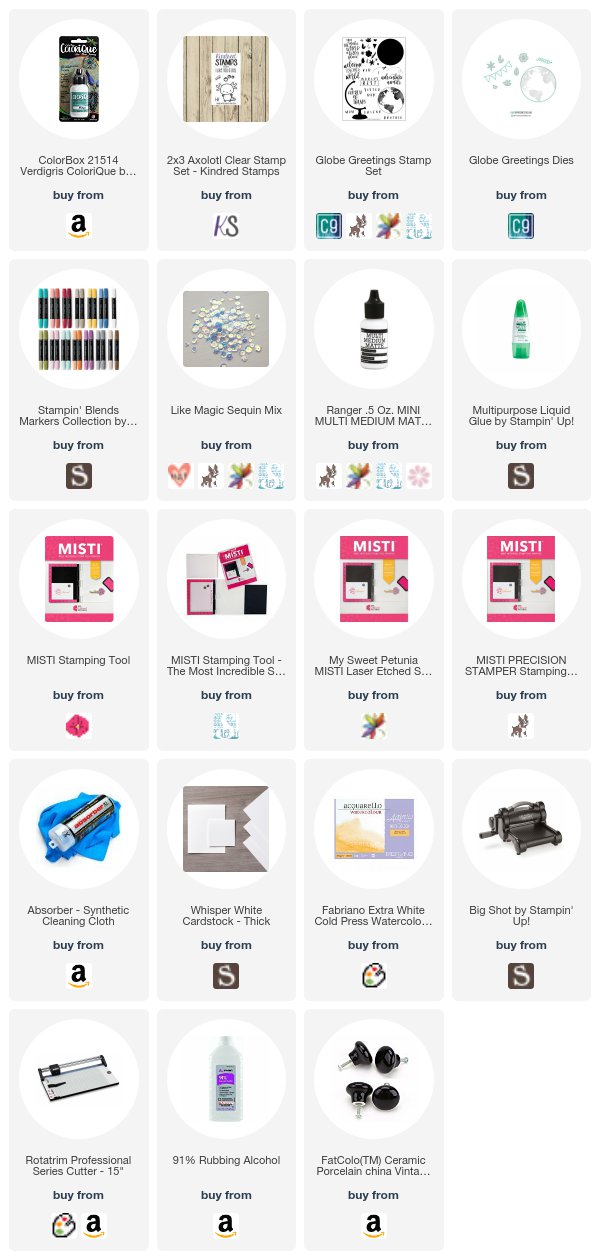 Next, I wanted to see how it behaved with alcohol, so I did a layered galaxy background you'll see in the video on a card with
Concord & 9th's Globe Greetings
. I love the subtle blues and greens in the dark sky.
Finally - I used it for its intended purpose.
I bought this little drawer cabinet a few years ago on our Facebook garage sale page. It's a really poorly made piece that is trying to act like it's vintage, but it's really cranked out in high volume and badly painted and sold for too much. However, it showed up on our page for $3 and I had to make it mine. It had a hideous white/yellow crackle finish on it that was attempting to be shabby chic, but was mostly just shabby. The paint was so bad, it wasn't even worth sanding (especially on a $3 piece) so I chose chalk paint, which covers a multitude of sins! I used
Cece Caldwell Santa Fe Turquoise
(the same color that's on my
Stampin' Blends organizer which you can see here
) and finished it with her endurance gloss. It looks so cute now.
The dingleberries who built it used cheap knobs that they nailed in, so four of them were dangling off. I thought this was the perfect opportunity for some
Colorique
embellishment, so I bought some
inexpensive ceramic pulls
- they were black, so I thought that would really put the product to the test - and applied a few coats of
Poppy Colorique
. And voila! A cute, sassy, sort of 50's looking drawer cabinet. I should fill it up with
Neat & Tangled Like Magic sequins
!
So head over to Splitcoast to see
the full review by the Product Focus team and more deets on Colorique
, and check out my free play time in
this video
!
Finally - I wanted to share a link to a personal RAK (Random Act of Kindness) database I'm starting.
Sometimes I have craft supplies - they might be new - they might be gently used - that I'm not using anymore that I would love to gift to someone. I also have cards I'd like to do the same with. If you would like to be on my list - please fill out this completely confidential form to be included. I don't guarantee I'll get to you - but I will check this list and mail things to as many people as I can as often as I can :).
Understand Blue RAK Database link
.
Loveyaalotlmeanitbye.