I went rogue on
my friend Lori's Falliday Fest challenge
because I had this adorable stamp sitting on my desk that I could not resist using.
Her challenge is to use a bird or feathers on your card.
Technically I did use feathers, because I'm pretty sure a small flying pig/bug/man creature's wings have feathers on them, but of course I can't be 100% certain, because I can't find one in the wild in order to study it.
These wonderful whimsical
Zinis stamps
jumped into my cart when I was buying the new colors of
Paper Artsy Infusions
.
I think the flying pigbugman actually flitted around my studio this weekend, because I can no longer find the Post-It® note that I wrote my Copic colors on for this card, so I am sorry - I don't have them. But it's pink, orange, yellow and green :).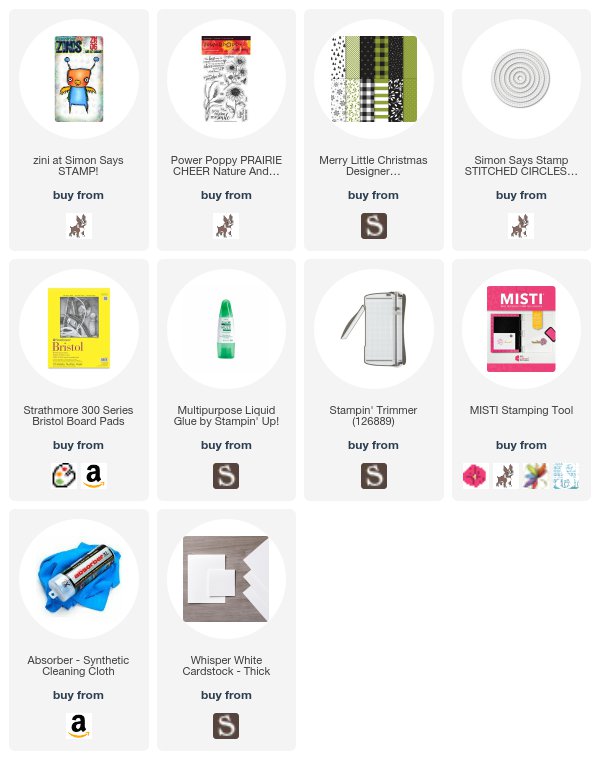 To put this together, it actually took a few steps. I colored him first on marker paper. Then I cut him out - just his body and the little ends of his antennae. But he had all this scratchy detail I didn't want to lose around the edges and I definitely didn't want to fussy cut those antennae. So I cut the white panel with the Stitched Circles dies. I also cut a circle of the black & white paper from
Merry Little Christmas
. I glued the circle into the opening, making it a little tilted so his antennae would show up on those white squares. Then I put that into my
MISTI
and stamped him on the panel - hanging off each edge of the circle a bit. Then I glued down the paper pieced colored images on top of the stamp image. The sentiment is from
Prairie Cheer from Power Poppy
. I love that sentiment - it's so true. People spend too much time on themselves these days. Send a flying pigbugman to someone - I promise it will make them smile!
Thanks for stopping by!
Oh - and you can win my Arkon giveaway for October one of two ways. Simply place an order in my store using host code - and you will be automatically entered once.
Then fill out this form below and you will receive one entry - or a second entry if you placed an order. Entries close October 31st at 11:59 PM.
Loveyameanitbye.