I'm super excited today to be taking part in Justine Hovey's 4th annual 12 Days of Christmas Video Hop. I love
Justine's YouTube channel
and it's a real honor to be included this year.
The way the hop works is you will go to YouTube and watch my video (or watch it here and then click over.) In the description of the video, I will link to the next person in the hop. You watch and comment on all the videos on the hop, and answer the question that each one of us ask somewhere in our video - and you will be eligible to win one of Justine's daily prizes. The hop runs from today until November 4th. Winners will be announced on November 7th on Justine's channel, which is also where the daily giveaways will happen, including shopping sprees from Simon Says Stamp, a MISTI and more!
I wanted to do a project where you could get two cards from a single process, since the holiday cardmaking season is upon us, and we need to be efficient!
So I have a very fun stencil printing technique where you get two very different images when you are done. It's very quick - my video is less than five minutes, and except for the sped-up outlining, is in real time - you will love how fast you can make something very splashy. So here are the two cards I got from the process. First - a masked stencil technique for a stained glass effect using the
Stained Glass 1 stencil
and
Infusions
. Hard to see the shine here, but
the sentiment from Fa la la
is embossed in silver.
The second "freebie" image you get from the technique is a negative of the same stencil from monoprinting it.
The glimmery sentiment is from Concord & 9th - free with qualifying purchase through November 8th
. I definitely had a qualifying purchase! :)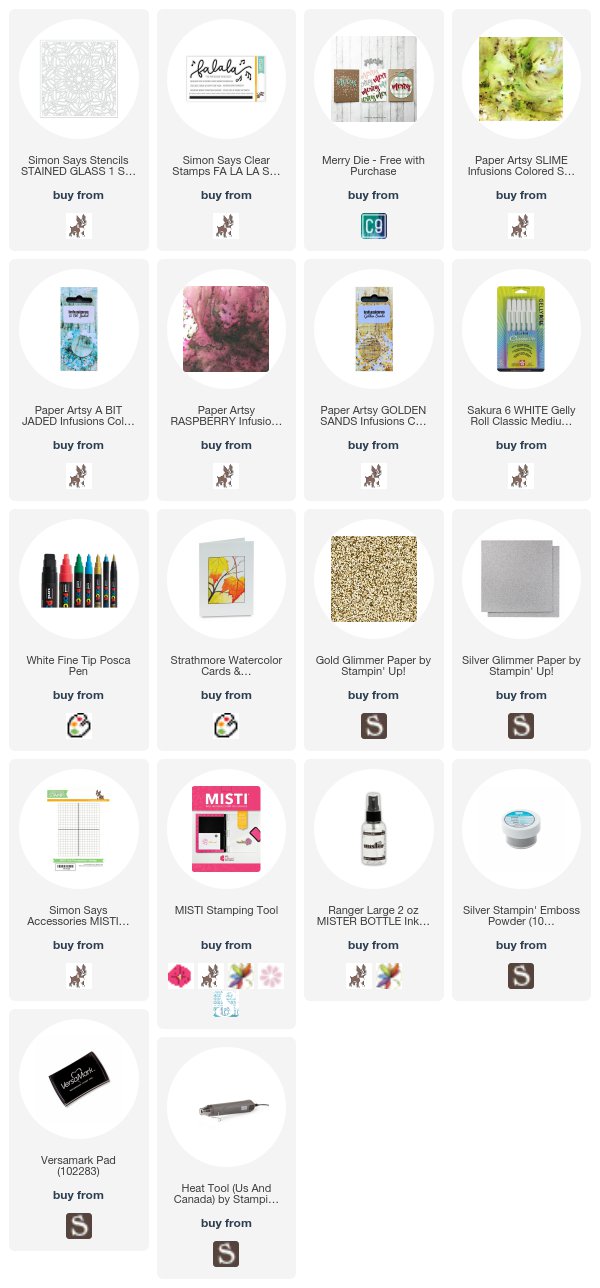 How fun are those? I could play with that technique all day.
To see how I did them in a two-for-one technique, you can watch
the video
below, and all the others on the hop (links are on YouTube). Enjoy!
Loveyameanitbye.