I recently returned from our annual Santa Fe trip, and we chose a new route that we really ended up liking a lot.
Typically, we went out to Ft. Stockton, and then up into New Mexico on a long stretch of 285. However, in the last ten years, they've been fracking on either side of that road, and it's ruined the road in numerous ways - the heavy trucks have destroyed the road itself, and the number of trucks has ruined the traffic pattern - you're always stuck behind a truck, unable to pass for long periods of time, and so the trip has lengthened each year. When you're talking about lengthening an eleven hour drive, you develop some dark thoughts about the route.
So this year, we went up 183, through Sweetwater, through Brownwood and Lubbock. It was a much better, faster route, now that they've raised the speed limits through most of it - we used to go this way but it was 13 hours because they made you crawl through the numerous small towns, but now - not only did we have cell service most of the way, but it was faster and prettier and there were more places to get gas, and no fracking trucks.
But one part really unsettled me, and that was the section through Sweetwater and its bizarre wind farms. There were THOUSANDS of wind turbines, and because it's somewhat hilly there, as we were driving through - you'd see just blades turning while you were driving - sticking up over a hill and turning quickly at an odd angle to the road, everywhere you looked. The hills make it so they are at all different heights, and honestly - I don't get motion sick, but I felt queasy. It seemed like the road and the ground were spinning from just the inescapable spinning all around us. I couldn't wait to get it out of my field of vision and see just the earth again.
I was going to do a watercolor sketch of it when I got to Santa Fe, and just document how disturbing the experience was, but I couldn't capture it in a drawing. On the way home, going back through there, I thought about how sad it was that this supposedly "clean" energy has RUINED what used to be a beautiful part of Texas - a pretty, empty, hilly stretch where you could see forever - a huge expanse of blue sky and rolling land is now a mechanized, ugly nightmare. They create deserts and harm wildlife too. The law of unintended consequences is brutal. It made me sad, and not very many things make me sad.
I lived my life outside as a kid, and have always loved just being alone with the plants and the bugs and the animals, and it's still my favorite place to be, although I don't drink boiling hot water out of the garden hose anymore, thankfully :). Not sure how we survived that, Jell-O, Super Elastic Bubble Plastic and cars without seatbelts, but we did.
One of the things I love most about Santa Fe is that once we park the car, we don't get back in it, and I spend hours and hours every day walking. This year - we went at a different time - and the flowers were spectacular. Hollyhocks that were seven feet tall lined the streets, and sprung up out of little cracks in the pavement. There were pansies, and cherries and apples on the trees, cottonwood fluff floating down like snow - it was magical.
Inside, I painted. I sketched and I played with
the new My Monthly Hero Kit
and watercolor. I wanted to experiment with perspective and masking and materials like glass and metal, which are terrifying in watercolor. Or I thought they were. Turns out, they are just colors after all.
The kit is beautiful - here's what comes in it. Yes - that's a full sized Distress Oxide ink pad.
I wanted to challenge myself, so I didn't use the dies.
For my first project, I arranged the bucket and watering can behind the jar from
the kit
. To do this, I stamped and masked the bucket first, and then stamped the watering can and the jar - all stamping except the sentiment was done in
Distress Weathered Wood
- stamped off once so it was very light. The flowers are from the add-on set
Little Florals
(add-ons are not limited time, by the way), and those I just stamped without masking because they would appear "through" the glass. Then with my trusty Silver Brush, I very carefully painted the images with Daniel Smith watercolor. The outline of the jar was done with Fuchsite, and the water with Manganese Blue Hue. I wanted the watering can and the bucket to seem like they were made of different types of metal, so I painted one with Payne's Blue-Grey, and the Other with Neutral Tint. To make the flowers look like they were inside and behind the glass, I just watered down the colors I used there in those areas and used less water for the parts not behind glass. But my FAVORITE part of this card is the wood. I took a somewhat dry
1/4" flat Silver Brush
and just dragged it across the card in various colors, after using
this masking tape
to give myself a straight horizontal. By the way - don't go on vacation without grid paper. Straight lines are impossible without it. Ask me how I know. After I got a woodgrain texture I liked, I painted a thin, dark line halfway up to make it look like a gap between two boards. Then I went back with neutral tint to create shadows. I really ended up loving this card. The sentiment is from an add-on set -
Summer Garden
.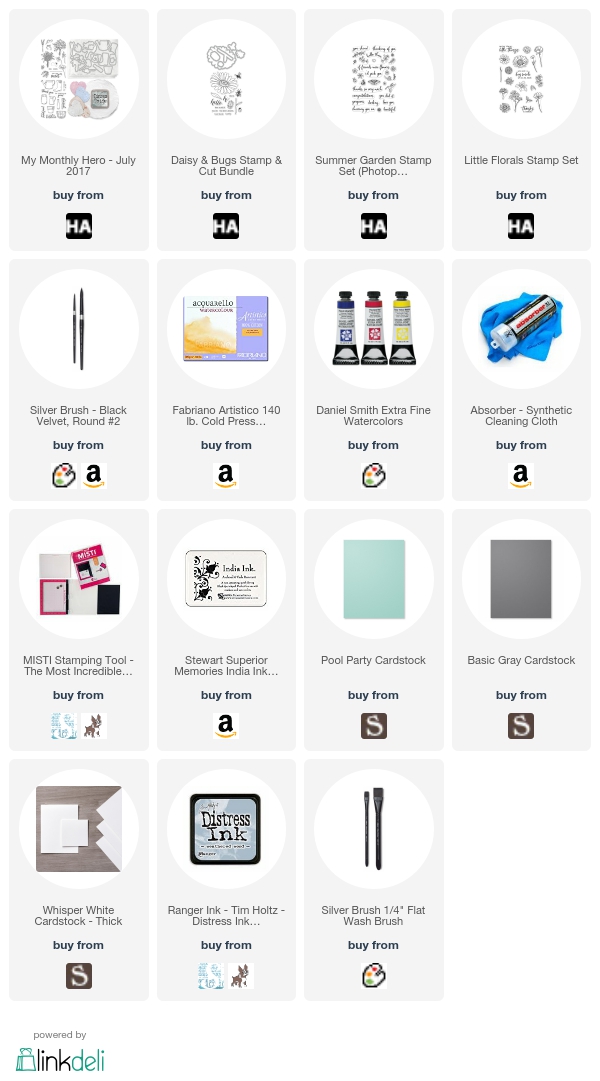 Then, I wanted to keep going with the masking. By the way, the most inexpensive and easy to use masking paper is
this one
- it's all I use outside the tape.
I could not resist the snail image in the
Summer Garden stamp set
, and despite my attempts at realism for the flowers, I had to paint the snail from my childhood, in completely unrealistic colors. To set this up - I stamped the snail first - this time in
India Ink
- I didn't do no-line on this card - and then stamped him on masking paper and masked him. THEN, I stamped that vine of flowers from Summer Garden and masked those too. Then and only then did I stamp the watering can in black on top of those images. Then I masked the top of the can and stamped the other flowers and the foliage, removed all the masks and painted them. The sentiment is from the
Daisy & Bugs bundle
. I just hinted at ground underneath the image. By this time I was full-on in love with that Neutral Tint watercolor - wow.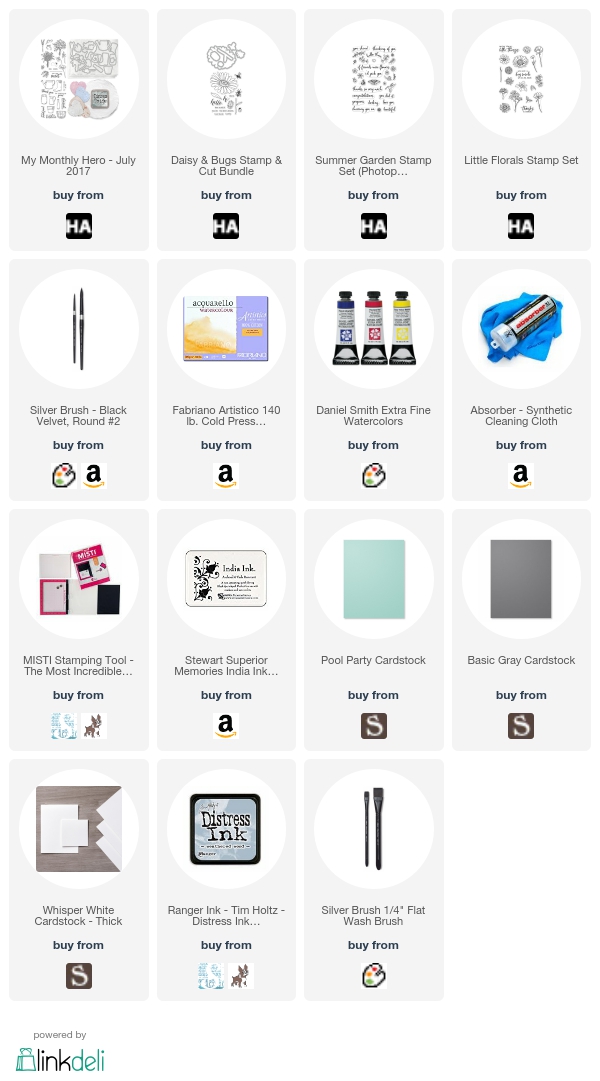 Finally - I went back to glass. I love the delicate flowers in the stamp set from the kit, and I thought they were perfect for those little soda bottle images - sort of wispy and relaxed. So no masking this time, but I did repeat the woodgrain because it was ridiculously fun. All images here are from the kit.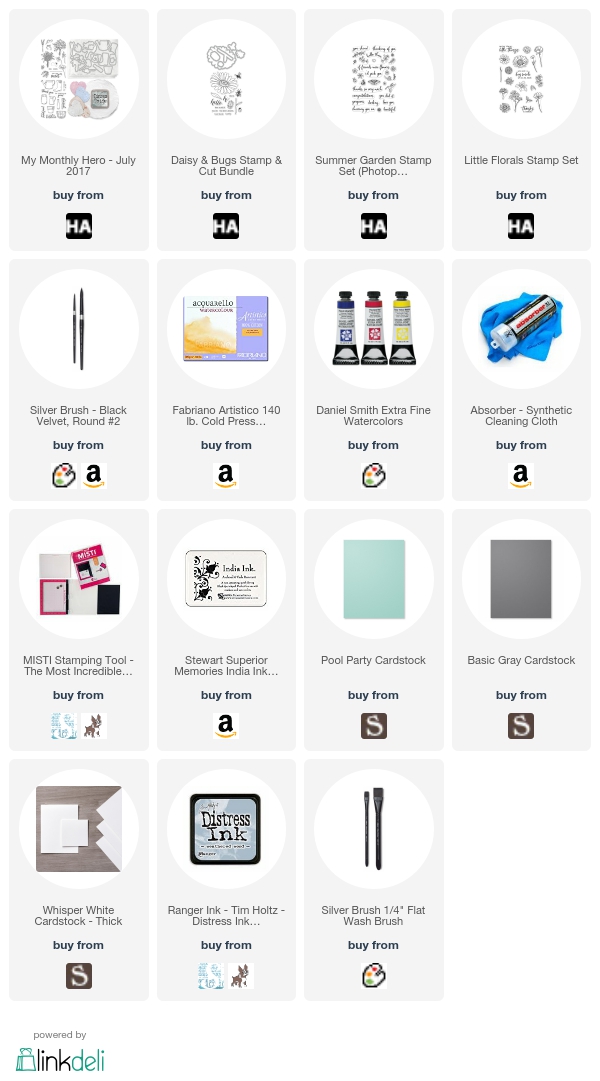 This was so fun and relaxing - so perfect for a peaceful vacation. I can't wait to go back - re-entry is hard!
If you want to win one of these kits, there's a blog hop, but remember, if you REALLY want one - they are gone when they are gone (unless you're a subscriber) so
you can get yours here
. The products are worth $74, so it's a steal and a half. LITERALLY. And, if you buy the kit and you win the drawing, they will credit you back, so you're safe either way - how cool is that?
Anyway, I'm as excited as you are to see what everyone else has done with it - so let's check it out, shall we?
The Hero Arts Blog
Jennifer McGuire
Wanda Guess
May Park
Yana Smakula
Jessica Frost-Ballas
Kathy Racoosin
Lydia Fiedler
Amy Tsuruta
Michelle Short
Libby Hickson
Thanks for stopping by today - leave me a comment about your favorite place to vacation to be entered in the kit drawing, and have an A1 day! :)
Loveyameanitbye.