I have always been a linguaphile, from my earliest days on this planet.
(I am not implying I was ever on another planet, by the way.)
I love words and sentences, and rhymes, and puzzles and games.
I think the gift of language to humans is unlike any other. Think of how complicated our languages are, and how we are always making up new words. Each word we speak and how we speak it - yes, even, maybe especially, cuss words - has a thousand meanings and makes us unique among the beasts.
(Unless one of those beasts is Splotchy, who speaks many languages, passionately, usually at 4 AM. Little bugger must be Italian or something. )
But in all things linguistic, I love hyperbole the most. (I'll wait for you to get over your surprise at this revelation.)
Why say "it's hot" when you can say "OH MY GOD, IT'S EIGHT THOUSAND DEGREES OUTSIDE AND I'M MELTING LIKE I JUST OPENED THE ARK OF THE COVENANT!!!"? We all know which one wins.
I've always thought of hyperbole as a particularly Irish talent - maybe because of Yeats. I also remember loving this the first time I read it.
"

"For last year's words belong to last year's language
And next year's words await another voice."
―

T.S. Eliot,

Four Quartets
Edward Lear's so-called nonsense always appealed to me, as did the Jabberwocky and the strange words in the Hobbit. Maybe that's why I ended up in linguistics in graduate school. None of it sounded like nonsense to me.
Hyperbole is often defined as exaggeration - but they really are different. I use hyperbole as expressiveness - not stretching the truth - just making it more interesting, as in the above example. Once you have the visual of the guy melting when he opened the Ark of the Covenant, you immediately know exactly how hot I feel. We are on the same page.
So imagine my delight a few weeks ago when I get a text from my friends Greg & Angie at
Concord & 9th
asking me if they can use something I texted them in a stamp set. I said, and I quote: "OMGGGGGGGG!!!!!!!!!! SQUEE!!! Yesssss!" More boring people might have said: "Why yes, you may."
So they sent me the stamp set as a thanks, and I could not love it more. I can't wait for you to see the whole thing.
The text message was the sentiment that's on my card - and honestly - it's true. They are awesome people, and I could not be more grateful for their friendship. I was cleaning out my phone's digital landfill yesterday, and I came across the pictures of us at CHA and got all verklempt. They are just good people, whose awesomeness rivals that of a unicorn - no exaggeration.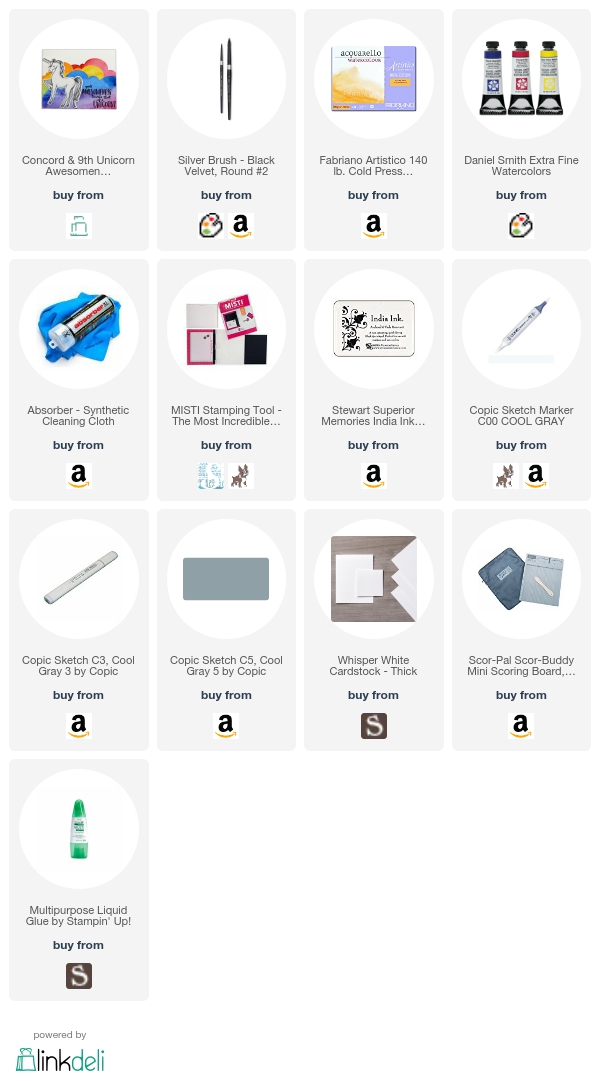 The set is called
Unicorn Awesomeness
and it will be in their
July 9th release
, this Sunday at 9 AM.
To make this card, I cut the clouds from
the dies that match the set
on my favorite watercolor paper (linked above). I painted those with Daniel Smith watercolor, and glued them together. That's 140 pound watercolor paper, so this is a pretty sturdy card! Then I stamped the sentiment (squee!) on the front cloud and stamped and die cut the unicorn. I colored her with three grey Copics. I'm sure people will make her look amazing with a rainbow mane and tail, but I had enough rainbow working in the background, that a stately silver is what I wanted. You know - because unicorns are stately.
What a fun thing to have happen. Thanks for that, my friends! :)
Because of their unicorn awesomeness - they are giving me TWO bundles to give to you guys - that's two stamp & die sets of
Unicorn Awesomeness
. All you have to do is leave me a comment between now and July 9th at noon central telling me about someone whose awesomeness rivals that of a unicorn in YOUR life. I will draw two winners on that day!
Hop over to their blog today
to see sneak peeks and see if I've exaggerated :)
Speaking of winners - here is my winner of the
This Might Be Vodka
stamp set from
this post
! Kris - email me your address and I'll get that in the mail!
PS - I love sun tea too!
Loveyameanitnotexaggeratingbye.