Since someone else was brave enough to bare their soul on this issue, I thought I would come forward too.
That is how all oppression gets righted in the world anyway - someone following that first person brave enough to step out of line and be defiant, whatever the cost.
So here's my confession. It starts innocently enough.
Heat embossing is like life changing magic. Most people will say that it (and a Stampin' Up! event) is what got them "hooked" on stamping and cardmaking.
Getting to show people that magical moment when gold embossing powder liquifies is one of life's greatest joys. The squealing that ensues is like music to my ears.
And yet - I can't stand to do it.
Don't get me wrong - I DO IT - I just don't like it - I love the result, but I do not like my gritty hands, my gritty desk, my gritty MISTI. And yes, I've done ALL THE THINGS - put down copy paper yada yada. I'm not an animal.
Stop telling people this will stop that weaponized powder from getting everywhere. It won't. Little devious grits will escape any containment system. Makes me shudder.
Strangely enough - I don't feel that way about glitter. But I DO feel that way about sand, which is sort of what embossing powder reminds me of. I don't mind getting ink all over my hands, but I don't like the feeling that they are dirty, which is how they feel when they are covered with embossing powder. It's almost at a phobia level.
However, as with many little tasks in life, like cleaning, you LOVE the result so much, you put up with the task. So that's the state of my relationship with embossing, which I'm sure I'll do for the rest of my life. Too late to stop now.
AND, it goes so well with my favorite thing to do - which is watercolor. So here I sit, trapped in a loveless relationship with grit. Pray for me, won't you?
I really haven't made it all the way through the new catalog stamp sets yet, so I pulled out a really wow stamp set for this card. I heat embossed the image and then watercolored it with the colors linked below.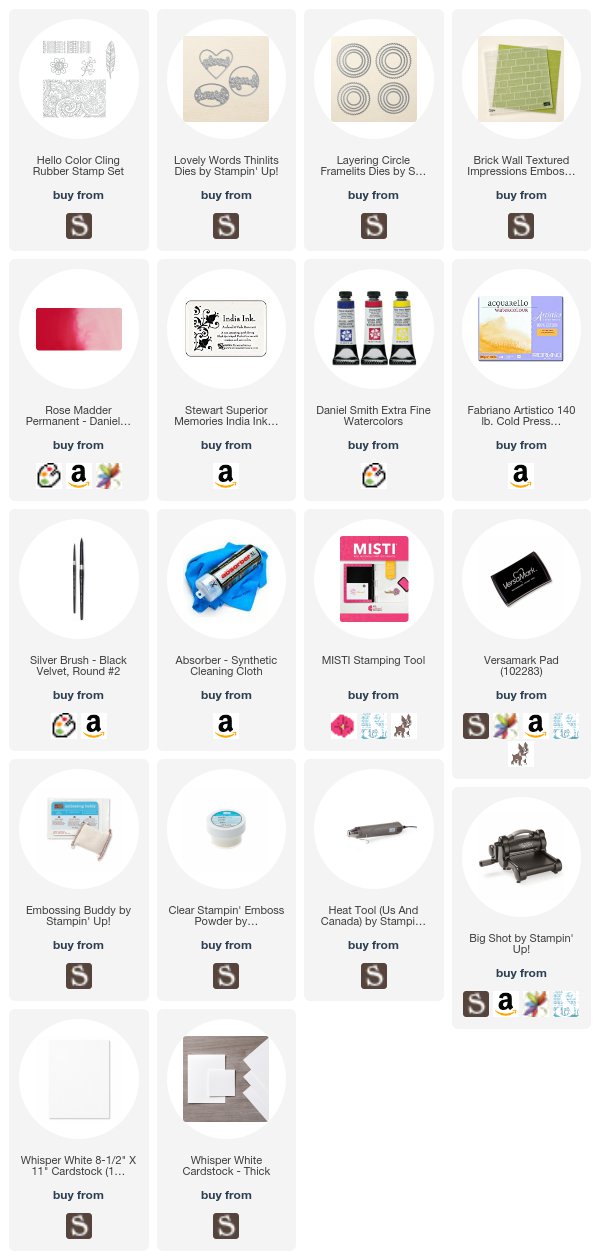 See? And I didn't even die! It was dicey for a bit, not gonna lie, but I love this card.
I should start a support group - I could even invite the anti-glitter people. Those of us who don't like ribbon, etc. We could just hug it out - ss long as none of us have recently embossed, of course.
Now - about that die cut. When you see the
Lovely Words dies
in the catalog, they are cut out like mine are. In order to do that, you will need to get the
Layering Circles Framelits
, the Ovals and the Hearts - those products all coordinate with the Lovely Words dies. If you do not have those, then the dies will cut out everything you see - but what is outside of the circle on my card would just be cardstock, if that makes sense. The Layering Circles dies are what gives me just a piece I can use like I did here, not a word cut into a card front.
After I embossed that gorgeous image from
Hello Color
, I just watercolored the background. That's my favorite way to use embossing. You know - if I have to. :)
Behind that is cardstock embossed with the Brick Wall embossing folder, which looks good with anything.
I love having "hugs" cards around because they're good for any occasion.
So now, having written all that - I have to go wash my hands. I know you understand.
Check out
today's Dare to Get Dirty challenges
to see what challenge I made this card for and join us!
Loveyameanitbye.