I saw one of those "he must have too much time on his hands" comments on Facebook the other day.
There are few things that make less sense than that sentence. I wrote a post about this three years ago, which you can read
here
. And it still floors me that people can't hear what it sounds like when they say that.
My brother-in-law stumbled across the sweetest story on Pinterest and shared it with me today, and I was just amazed. It's the story of Maud Lewis, a painter in Nova Scotia, who painted the entire interior and exterior of her teeny, one room ( 9' x 10') home during her very difficult, and literally painful life. Her paintings were just the opposite of her situation - bright, whimsical, sweet and cheerful. Her subject matter, like her home and life, were small and local.
I'm sure if there had been social media in her lifetime, some ding dong would have commented on one of her Instagram posts: "you must have too much time on your hands" after seeing the flowers she painted on her stove, on her walls, and on the outside of her house. Or
her little childlike kitties she liked to paint
. The kitties are my favorites.
Having just seen her work for the first time today, I can say she most definitely did not have enough time. Not nearly enough. She passed away in her sixties. There's a
sweet little video about her here
, and as a bonus there are some very fuzzy cows in it.
The human spirit is an amazing thing. I can't imagine living in a house the same size as my teeny studio, or painting and doing all the things she did while barely able to hold a paintbrush. I've always thought that whole tiny house thing was a recipe for a multiple homicide. But she made sweet kitties out of it.
If you want to read more about her,
here are all the books about her
, and
here's the article he sent me
.
She's my inspiration today, with a little help from
Dare to Get Dirty
and
World Watercolor Month
. She most definitely got some lemons, but still managed to live her life with zest.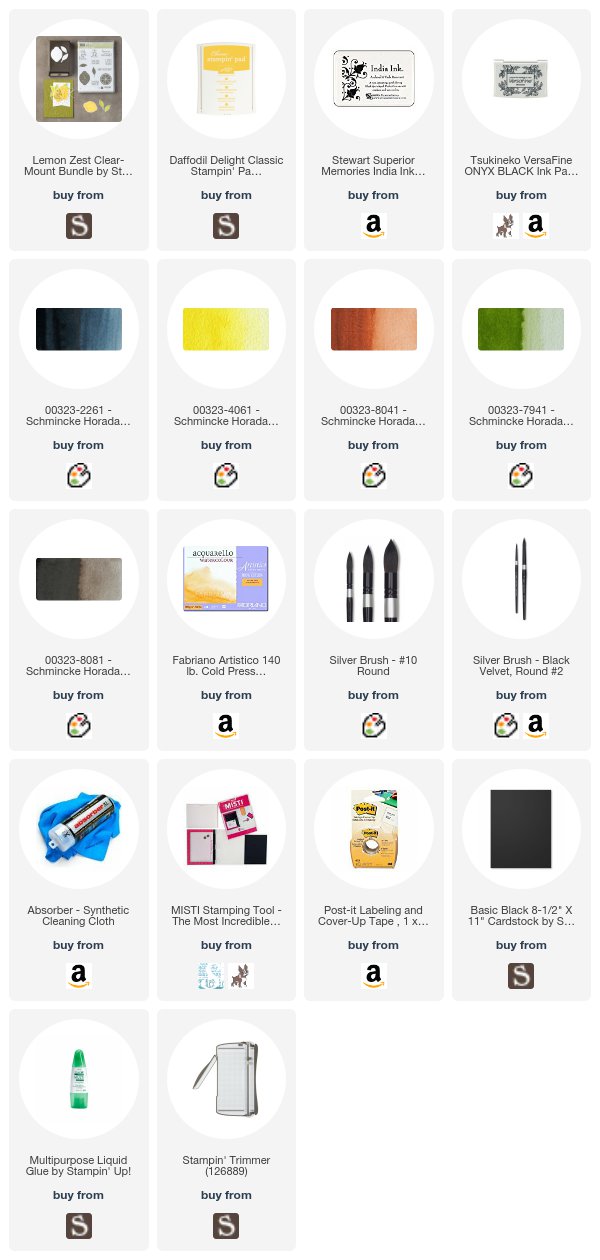 This is the second citrus I've painted for
World Watercolor month
, but this is the first time I've stamped for the prompts this month. I decided to turn the lemon image from
Lemon Zest
into a still life, because it's a nice, big image perfect for watercolor. I feel like making a ton of these - it was so fun and relaxing. I used a very limited palette, which is listed above, and the whole process took 19 minutes. I sped that up for you for a quick video. I edited out the 3,000 times I reached across my palette to rinse my brushes because it was annoying :) But other than that it's as it was. Someday I'll figure out where to put everything so that I'm not always reaching across the frame and I'll save a ton of editing time. But in the meantime,
here it is
.
I used
Schmincke watercolor
for this. It's been fun to see the difference between the Schmincke and the Daniel Smith paint. All watercolor lines are surprisingly different. I could have 40,000 Prussian Blues and it would still not be enough, I can tell you that.
The daily painting challenge from
World Watercolor Month
has not only given me a lot more working knowledge of the paint, but I've learned a ton of other skills as well. Amazing how much you can learn if you dedicate yourself to something daily for a month. I'm sure all our teachers told us that at some point and we ignored it until it became practical in our own lives.
Now I have some VERY exciting news for you guys. From now until the end of the year - I'll be giving away a HUGE prize from my friends at Arkon.
As you know, I LOVE
my phone stand
that I use to film my videos. There's a 20% off code in the footer of every blog post that you can use on their site any time. This thing is sturdy, takes up a small amount of space and is the only reason I can produce videos regularly. The before and after effect on my YouTube channel is remarkable. I'm a HUGE fan.
So every month from now until December, I'll be giving away a monthly prize package which includes my stand, plus
the AWESOME ring light
for the perfect selfie, perfect lighting for Facebook lives or desktop live video. These guys know what they're doing, and they're very generous - so you are the beneficiaries!
So starting today, and in the last week of every month for the rest of the year, you will have a chance to win this amazing giveaway. First - every one of my online customers will be automatically entered to win with a $25 or higher order
in my store
- you do not have to do anything at all extra to be entered! That begins today as a thank you to every one of my Stampin' Up! customers - I appreciate you! Orders between the 23rd of the month and the 22nd of the next month will count for that month.
For everyone else, simply leave me a comment here with the words "I want to win an Arkon Live Streaming Pro Phone Stand" somewhere in your comment. Be sure your Google Profile has an ability to contact you in it. I don't recommend leaving your email in the comments - spammers can grab that. Just fill out your profile and be sure it includes a link to your email.
I'd also love to hear what you think of sweet Maud Lewis and her ability to make lemonade.
Stay tuned for more sneak peeks of my Dare to Get Dirty cards in the coming days!
Loveyameanitbye.