When people ask questions about "the right" supplies for a particular medium or technique, I always flinch a little. While there are definitely some "wrong" supplies for certain mediums and techniques, the "right" ones can be a bit more subjective, so I decided to explore that topic today.
One example of a "wrong" medium is trying to substitute photo paper for techniques that use glossy cardstock.
Photo paper has an emulsion for the coating. Glossy cardstock has a clay coating. As my good friend Walter White would say - it's all about the chemistry! Ink will behave very differently when it interacts with those two surfaces. That emulsion can become sticky when it interacts with ink. So when you are trying to recreate something you saw on glossy cardstock, don't try it with photo paper - that would be the wrong supply. However, if you are trying to make coloredy sticky paper, then photo paper would be the right supply :).
But none of that should ever get in the way of just experimenting on your own. So if I show you a project you want to recreate, and you ask me what the "right" xyz is - I'll tell you what I used - but that doesn't mean you shouldn't try other things you might like better. I try to always encourage people just to play before they decide what's "right" for them. Right meaning the one that you have the most fun doing.
Today's projects are a great way to illustrate this. I wanted to show you what a big difference substrate can make with the exact same inks and process.
I'm THRILLED that glossy paper is back in the catalog now. I've really missed it. I love the way ink blends on that surface, and how the colors ratchet down and become less vivid, more dreamy. So I thought I'd show you the same inks on both glossy and a water-friendly uncoated cardstock like Bristol Vellum. (Vellum refers to the finish - this is a cardstock, not a transparent vellum.) The difference is pretty remarkable.
This first background was done in my
Gel Press
on glossy. Then I stamped the images from
Season Like Christmas
on top using the
MISTI
- remember the slippy, slidey stamping on glossy in the olden days? The
MISTI
removes all that and makes everything crisp and perfect. The tree is a three or four step tree - I only did three steps here. Really pretty. I was going for a pink and green background, since I don't like red and green. All supplies listed below the second card.
The second card used EXACTLY the same process, but the
Bristol cardstock
. Beautiful, vivid, fiery colors, using the same inks.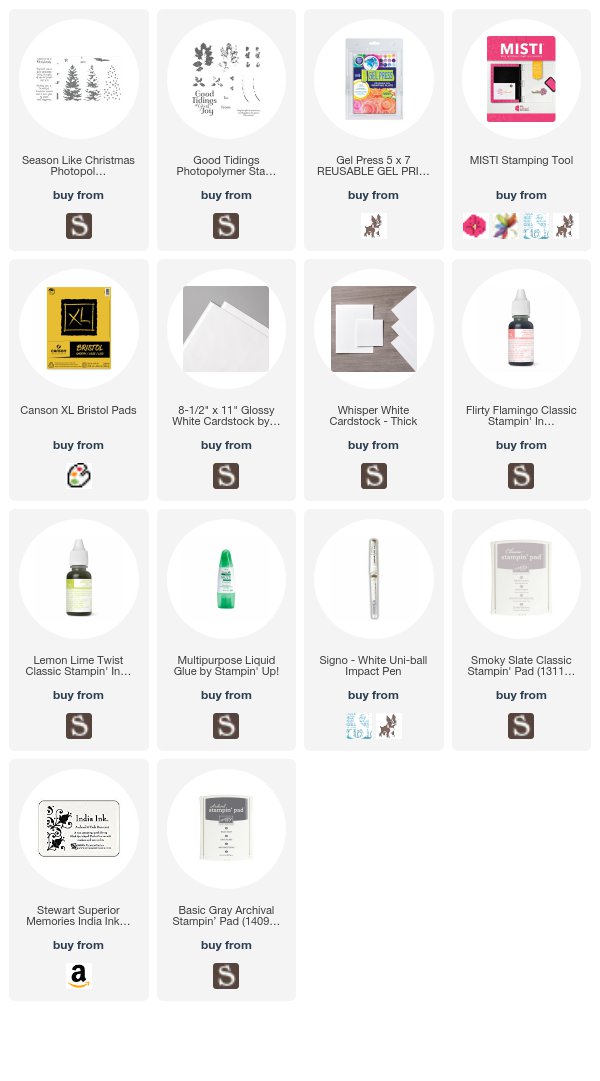 Now that's a pretty amazing difference.
But if you wanted a really bright, vivid result, and I told you that glossy cardstock was the "right" supply - you'd be mad at me. Same with if you wanted a soft result and I told you to use the Bristol vellum.
Only you know what the right thing is - so don't be fearful of a "wrong" supply - try them all and see what you like!
So this project is part of
a video
I did for the awesome peeps at Gel Press.
My Gel Press
- THAT is a right supply. I love experimenting with mediums on the 5x7 plate (linked above.)
Next month's video is pretty awesome too, I'm not gonna lie :).
So enjoy this - you'll get to see in depth the difference between wet and dry ink on glossy cardstock and also the difference between the two papers. Enjoy!
A quick note on the Hero Arts kits for those of you that stopped by on Monday - the subscription option they have makes sure you never miss a kit - because they typically sell out in hours. So if you want to subscribe for September, you can do that here - but you need to do it by 8/28 at 8 PM PST to get the September Kit.
Remember, you can enter my August giveaway of an Arkon Pro Live Streaming Stand - the one I film all my tutorials with PLUS a ring light for the perfect lighting awesome selfies and live streams one of two ways:
Place an order in my store any time during the month of August for an automatic entry. BONUS - use host code 4BY7YKR7 on your order to be entered in a drawing for free Stampin' Up! products as well!
Comment on the post link right here (read the instructions there) and you'll be automatically entered. If you place an order in my store AND comment on that post, you'll receive two entries!
And remember - you can always use my code - UNDERSTANDBLUE - at Arkon for 20% off. They sell all sorts of mounts - hands-free phone mounts for the car, GoPro mounts, tripods, you name it. and they are GREAT people and provide great service.