One of my fondest wishes for the new catalog was granted many times over, and I'm so excited about it!
I LIKE BIG SENTIMENTS AND I CANNOT LIE.
(I'll wait while you pull that up on Itunes and get your groove on for a bit.)
I begged for YUGE sentiments, and they did it. And I love all of them.
Because I like to do dramatic backgrounds, I often times only want to add a sentiment, and it needs to be bold to compete with either my bright colors, or, in today's case, my love of a mostly white card.
When I first started stamping, before I found my own style, I did not make clean and simple cards. As far as I know, CAS had not even really emerged as a cardmaking style yet. We were all in the throes of a viral embellishment phase, where the more eyelets, brads, mini brads and ribbon you could throw at a card, the better you felt about yourself as a person.
Praise the Lord that fell by the wayside. Ribbon gives me the heebie jeebies now, but just like 80s hair seemed like the right thing to do at the time, my cards were drowning in poofy organdy hideousness for a long time. Makes me shudder just thinking about it.
But somewhere along the way, I fell in love with white cardstock. I love the crispness of color and black ink on white more than all the things. Maybe it's my aging eyes that are partially to blame there. But I remember vividly sitting in Edward Tufte's presentation and hearing that the highest resolution "display" is actually black text on white paper. Our digital world can't even come close. And that made me realize why I love CAS cardmaking and white space so much - it works better. It's high-res.
I have been on a whole house belongings purge for a few years - since I remodeled my studio - and I go crazy on something like bookcases from time to time and get rid of tons of books, or whatever the belonging of the day is that I want to have less of. My house is very similar to my cards - there's not a lot of extra stuff in it, and I'd still like to have way less. I can't stand clutter, and I feel like we all have too much of it. I was telling someone the other day how dumb wedding registries were when we got married. I thought how insane it was to give two people TWELVE PLACE SETTINGS OF BONE CHINA when their sole other possessions in the world consisted of a second hand futon and three Whataburger coupons. What kind of crazy is that? And for us to have that plus twelve place settings of everyday china is still nuts. There are two of us. We could keep a Greek party going for days with all our plates they could smash.
I guess the culture has just changed, and I like it. Less is more.
But during my last book purge, I did sit down for a few minutes with
Tufte's book
- which is ESSENTIAL - if you do not have it, IMMEDIATELY buy it along with the companion books. Especially if you love both art and data. He's such a genius, and I really do believe that he has had a big influence on the way I style my art. Something about his approach bends toward rich minimalism - how much you can do with very little in the way of visuals. I love it. So that's what I'm doing today.
This is another card I made for the Clearsnap Product Focus, again with
the MISTI Ombre I described here
, but with red and purple thrown in. That Jelly ink is absolutely my FAVORITE. And that's saying something, both from a blue fan and from a person who objects to most purples. This is a brilliant, royal color that makes my eyes happy.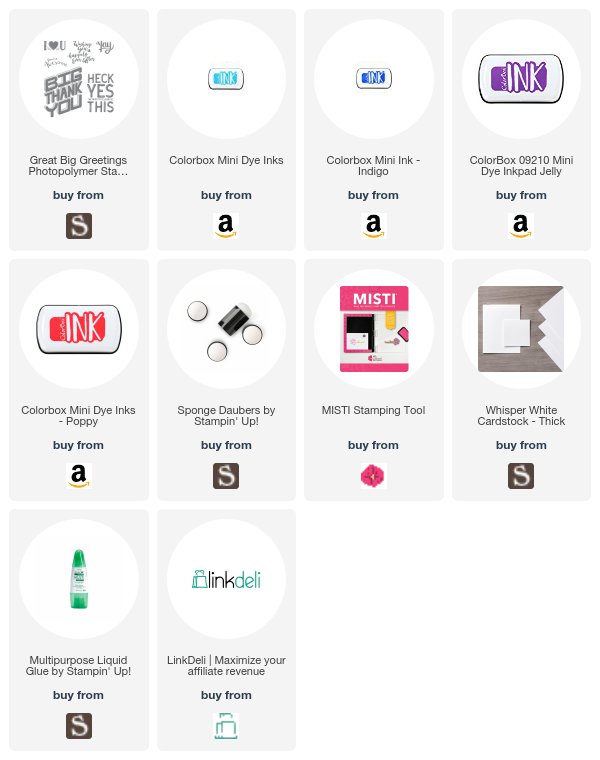 I just love that sentiment. The whole set is great, but these remind me of doodled lettering I used to do when I was a kid. The highlights make them so dimensional. Funky and retro goodness, there.
So heck yes we need to celebrate Caturday! I am going to TRY to spend the whole weekend in creative pursuits. We'll see how that goes.
LoveyameanithaveagreatCaturdaybye.