My sweet friend Danielle's stamp company has its fifth birthday this month. Danielle is a beautiful, funny girl that I really enjoy spending time with at retreats, and her stamp designs are as awesome as she is. You can see
an interview we did with Danielle here at OCC's Crafty Chat
. She's just one of my favorite people. Plus, she does a really great job of co-conspiring with me to get shoulder shots of crazy people when we are out and about. You know you can trust a person who can pull off a righteously stealthy shoulder shot.
Danielle has also had a tough year, which you can read about
and possibly help with here
, and so she needs a little party with some wild animals (yes, I'm including myself) today.
So she's celebrating her company's birthday with a week-long blog hop with some great friends, and I'm so honored that she included me!
We also have a
Product Focus today at Splitcoast, featuring some fantastic Color Box inks
, and so I'm putting my hands together today to make some super fun cards with pretty ink and adorable stamps and dies!
First up - a little non-traditional giraffe action with her
Wild Ones stamp set
and the
Hooray bundle
. ADORABLE!!! I colored the giraffe with Copics (YR16, YR07, Y06, YG23, FYG2), and the cardstock is Lemon Lime Twist with matching
Lemon Lime Twist Designer Series Paper
. Her sequins in this release are called Like Magic, and they are! They picked up the green so beautifully, but also have blues and other colors in them. They'd match whatever they are put on. To attach sequins, I always use the
Mono Metal glue
in the list below.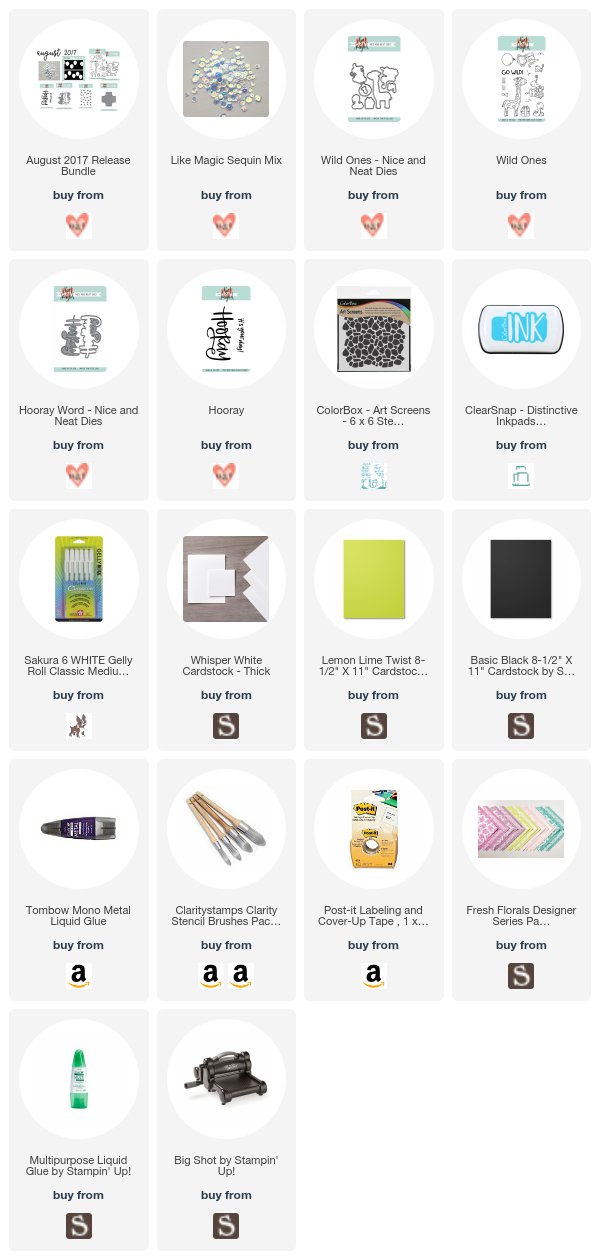 Then I thought I'd switch back to a more realistic giraffe, because I couldn't stop stamping him, and I used the
Color Box stencil
with two of their inks on my
Clarity Stamp Stencil Brushes
and the same sentiments.
Finally, I did an ink smooshing technique with the GORGEOUS bright inks - some of them do a little color separation which I love. I watercolored the little monkey with the inks as well, and added a few white accents.
What a fun release - I love how happy everything feels.
Happy birthday Danielle! I can't wait to see what's next for you!
Here's today's hop list - be sure and comment on all the posts for your chance to win the very generous prizes - (1) $100 gift certificate to her store and (2) $50 gift certificates - that's a lot of shopping!
On the Neat and Tangled blog, you'll find a list of the previous two days hops, and then check back there for the next two days as well to increase your chances to win!
Remember, you can enter my August giveaway of an Arkon Pro Live Streaming Stand - the one I film all my tutorials with PLUS a ring light for the perfect lighting awesome selfies and live streams one of two ways:
Place an order in my store any time during the month of August for an automatic entry. BONUS - use host code 4BY7YKR7 on your order to be entered in a drawing for free Stampin' Up! products as well!
Comment on the post link right here (read the instructions there) and you'll be automatically entered. If you place an order in my store AND comment on that post, you'll receive two entries!
And remember - you can always use my code - UNDERSTANDBLUE - at Arkon for 20% off. They sell all sorts of mounts - hands-free phone mounts for the car, GoPro mounts, tripods, you name it. and they are GREAT people and provide great service.
Loveyameanitbye.