My Christmas stamp-a-stacks start this weekend and I'm so excited! It never gets really cold here, and we always start seeing Christmas imagery during our most sweltering times of the year, and it's so nice. We will never get snow, but it's fun to look at when you're lying down on your floor tile trying to cool yourself off like some sort of reverse reptile in August!
So I'm enjoying working my way through my box of Holiday mini goodies, and I combined them with the fun inks we tested in our
Product Focus this week at Splitcoast
.
I also like just experimenting with things that might end up on my own Christmas cards. That's kind of a unique project - I mail hundreds of cards so I need them to not be overly complicated, but I also want a wow. So I need to get my hands dirty before November getting that mix just right. I can only figure out if I want to do something 200 times by doing it.
So on today's card, I wanted to do a glorious blue symphony. I did the sentiment in ombre - using the MISTI for that perfectly blended look. The way I do that is start with the first color - in this case, Indigo, and ink up part of the sentiment. Then I take a sponge dauber and pounce along the bottom edge to soften any hard lines - just lifting some of the ink. Stamp that with the MISTI, repeating several times. Then I ink up the bottom of the sentiment in Aqua, dabbing the top edge this time to soften it, and stamping it in the MISTI several times until I have that beautiful blend.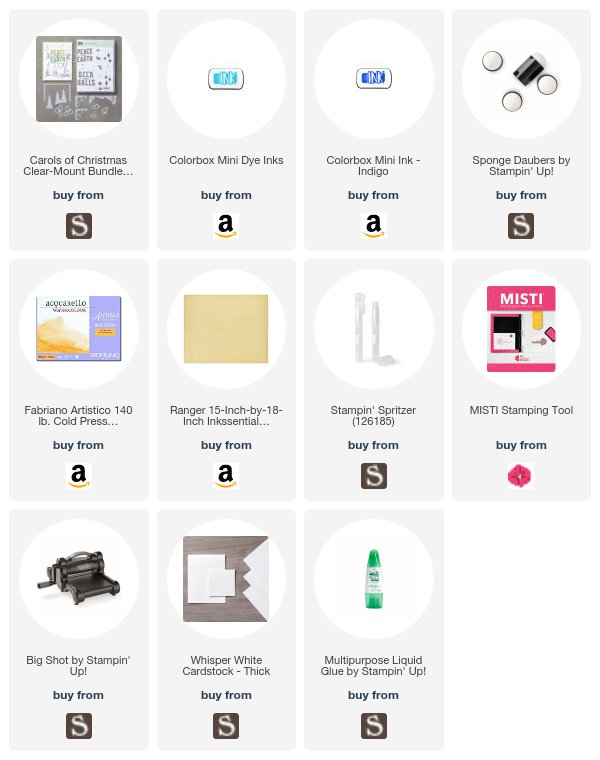 What's cool about these inks is their water reactivity. In my opinion, they're right up there with Distress ink this way. I just did wrinkle free distress on some watercolor paper, and then flicked water onto it and you can see the color separation on the Indigo into a pink, which is spectacular. I LOVE color separating blues and blacks and all the things. Unpredictability is my favorite, which is probably why I love cats :).
Then I die cut the trees and deer from that paper and glued them on. You can run all three of these dies through together, so it's a very quick and easy card. All it needed was a pure white background to really pop.
Are you working on holiday cards already? Do you need a break from the heat? I actually love it the most when it's blazing hot, cloud free and dry - but I don't mind cooling off my eyeballs every now and then with winter cards in summer.
Speaking of heat - I discovered on our trip to Santa Fe that the iPhone will shut down if the phone gets too hot. Despite us having the AC on stun in the car on our trip - I had the phone flat, face up on my console because we were listening to Serial, and the concentrated sun through the glass of the windshield heated my phone up to nuclear and shut it down. So I FINALLY bought a phone mount from Arkon. I never really needed one before because I just put my phone in my purse when I drive. I see way too much texting and driving here to be anything but terrified in the car. But listening to podcasts and audio books (I drive a 2004 car, so I can't get audiobooks through my stereo system) is really nice, and I wanted to be able to have my phone mounted vertically so it doesn't overheat. Arkon has
manufacturer specific phone mounts here
, so you can pick the one that works the best. Don't forget you get 20% off with my code - UNDERSTANDBLUE - on anything they sell. Speaking of that - I have a giveaway from them with the video filming stand I use with my phone below.
You can enter my August giveaway of an Arkon Pro Live Streaming Stand - the one I film all my tutorials with PLUS a ring light for the perfect lighting awesome selfies and live streams one of two ways:
Place an order in my store any time during the month of August for an automatic entry. BONUS - use host code 4BY7YKR7 on your order to be entered in a drawing for free Stampin' Up! products as well!
Comment on the post link right here (read the instructions there) and you'll be automatically entered. If you place an order in my store AND comment on that post, you'll receive two entries!
They sell all sorts of mounts - hands-free phone mounts for the car, GoPro mounts, tripods, you name it. and they are GREAT people and provide great service.

Loveyameanithopeyoureyeballsarecoolbye.